Patricia Johnson (nee Troyan)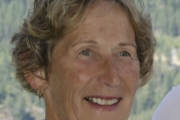 Patricia Johnson (nee Troyan) 1953-2015
It is with great sadness that we announce the passing of our beloved wife, mother, sister, teacher, and friend, Patricia (Patty) Johnson.  Patty passed peacefully with her family by her side on the fourth of September.  During her time she touched many and leaves behind a lasting legacy within the community she grew up in and loved.
Patty was a family woman.  She loved spending time with her brothers and sisters and their ever-growing families.  She took great pride in watching her many nieces and nephews grow and cherished the time she spent with her numerous grand nieces and nephews.  However, few things made her more proud and happy than having her 'boys' around – her husband of 41 years, Roy, and her two sons, Chad and Chris.
Patty's love of entertaining and of having a full house ensured that the View Street home, or the camp at Queens Bay, were always open to all, and full of warm, inviting energy and laughter.  In her spare time she loved walking, swimming in Kootenay Lake, kayaking with her friends, or sitting down to a crossword, especially on Sundays.
Patty had a defining passion for her work.  Whether working at the rec centre in her early years, teaching at the junior high and high school, umpiring field hockey, instructing Nelson's youth how to safely drive a vehicle, or as a driver examiner, she took immense pride in providing a service to her community and will always be fondly remembered for being firm, fair, and caring. 
Her devotion to the community extended outside of work, most notably in her years of service with the Kootenay Lake Hospital Foundation, and her commitment to shopping local.  
Patty is predeceased by her parents Steve and Betty Troyan, her brothers Larry and Ton, and her sisters Ginny and Liz.  She will be dearly missed by her husband Roy, and sons Chad (Laura) and Chris (Paige); her siblings Joe (Skip) Troyan, Teresa (Alan) Hettinger, Joan (Jim) Lewis, Bev (Butch) Schindel, Monica (Vince) Collins, Michael (Colleen) Troyan, Cathi (Ric) Bivar; and her many adoring nieces and nephews and grandnieces and grandnephews.
In life she was not one to dwell on the sadness of things, rather she preferred to celebrate what made one happy.  She would ask that you do not dwell too long on her passing, but enjoy your memories of all the good times you shared.
Prayers and a funeral service will be held at Mary Immaculate as follows: Prayers on Friday September 11th at 7 p.m., funeral service on September 12th at 1 p.m.