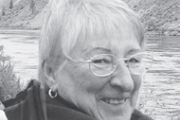 It is with deep sadness that the family of Joanne Eileen McCague (Osborne) (nee Norrie-Loewenthal) announces her passing on March 15, 2014 after a very brief illness.
Joanne was born in Vancouver, BC on November 6, 1942 to parents Bill (William) and Dolly (Alice) Norrie Loewenthal. The child of a mining accountant, Joanne lived in different locations, including Ashcroft, Hedley, Vancouver, and Uranium City (Sask.). Joanne had fantastic stories to tell of childhood adventures – riding mining ore carts every day from the family's house at the mine site high above Hedley down into town was one of our favourite stories.
Joanne was a graduate of the Vancouver General Hospital (VGH) School of Nursing in 1964 and was proud to work as a Registered Nurse.
As a nurse, Joanne always had the time and compassion to listen to her patients, hold their hand, or offer some other comfort to them. Joanne's favourite nursing position was in Summerland, working for Drs. Bartel and Williams and alongside Mary Stuart.
Joanne's biggest source of joy was her family. She loved her daughters and grandchildren more than anything in the world, and was happiest when she was spending time with them. She loved family dinners, family camping weekends, having the family over at her house, and holidays – especially Easter weekends.
Joanne was known for her thoughtfulness and caring about others.
She always had a good word to say about everyone, and loved to help wherever she could. Joanne could carry on a long conversation even with people she had just met, and made friends very easily. She always cooked enough so that she could accommodate extras at her dinner table and was famous for her fantastic dinners.
A consummate adventurer, Joanne loved to travel. In the past few years, Joanne and husband Mike enjoyed spending winters in sunny locations "down south" in their Fifth Wheel trailer – Joanne never missed the snow at all! She also loved to go "back-roading" throughout BC – exploring new fishing spots or looking for a ghost town.
Joanne's camera clicked thousands of photos and she wrote detailed emails to chronicle these adventures. On a summer day you would be hard pressed to find Joanne anywhere outside her garden – she was forever moving perennials or changing the size and location of her garden to maximize her flowers and produce.
Her iris bulbs followed her from Dawson Creek to Slocan Park to Kamloops to Alberta – they were almost as well travelled as she was!
Joanne was predeceased by her parents, Bill and Dolly Norrie- Loewenthal. She leaves behind to forever mourn her loss, her daughters Deanna Holitzki (Russ), Karen Carlson (Randy), husband Mike McCague, brother Bill Norrie-Loewenthal (Karen) , grandchildren Matthew and Madeline, step-grandchildren Josh and Jordie, nephews Jeremy, Luke, Eric, and James, as well as many extended family members – including her long-lost relatives from South Africa with whom she had recently connected. Joanne also leaves behind good friends, including first husband Bob Osborne, forever friend Loreen Bridges, and many others.
A Celebration of Life will be held in Summerland, BC on Saturday, July 19, 2014 at 1 p.m., at St. Stephen's Anglican Church – everyone is welcome to attend to remember Joanne.
In lieu of flowers, the family would request that anyone who wishes make donations to the UBC School of Nursing.