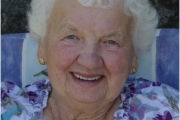 Mary Chernoff passed away suddenly on Wednesday, May 09, 2013 at the Trail Regional Hospital after a short illness.
                She was born April 15, 1927 in Blaine Lake, Sask.  She moved to Slocan Park with her parents in 1932. She was pre-deceased by her mother Anne on Jan. 25, 1975, her brother John on May 17, 1978, her father Fred on May 03, 1985, her brother Fred on Feb. 18, 1998, her husband Mike on Nov. 21, 1983, her late husband Nick in Nov. 2009, and her brother-in-law John Bonderoff in Oct. 2012.
Mary is survived by her children Jack (Wendy) Melanie and Shelly, Stella (John) Tara and daughter Elaine. She is also survived by her sister Anne Bonderoff, sister-in-law Laura Fehr, Rosemary Thompson, and Jeanette P., and many nieces and nephews.  Also left to mourn her are her adopted families, Philip and Sandy, Ed and Linda, and Frances Troyan and their extended families.
                Mary attended school in Slocan Park where she met Mike. Later they were married in the traditional style and made their home in Salmo. They had three children of whom they were very proud. Mary lived in her home and Mike began to diamond drill. He went further afield into the Lardeau are and Mary kept her children living at home on their small farm. She travelled the winding roads to bring Mike his equipment and meals that he needed. She was very proud of her driving skills. She had many other wonderful skills. Her kitchen was always a busy place, with friends enjoying her meals using many home grown foods.
Mary then started quilting beside the many other handicrafts she enjoyed, making and giving to her family and friends. They travelled little, usually only to visit family members. It was during a trip to Jack's at the coast that Mike passed away suddenly and Mary was left. She was a young widow living with few close neighbors.  In these early years funds were short and Mary also became a homemaker helping in her community, those in need of her services. During these years when mary was alone it was her sister Anne and John that supported her in many ways. She enjoyed people and went out to play cards. It was then that she met Nick and as Mary said, they shacked up together. They made a good couple and felt that they could spend their closing years together. Mary and Nick travelled on many trips in their trailer. They travelled on the journey of life for another eighteen years, till Nick passed away in Mary's arms at home. Mary was again alone, but not really. The Berikoff's assisted her, where possible. She felt very comfortable in her living quarters in Salmo. She was proud of her children and grandchildren, their skills and the love that she instilled in them, the love of family and of home. She was a mother, grandmother, and great grandmother to be proud of.
Rest in Peace, Mary.
A funeral service was held on Wednesday, May 15, 2013 at 10:00 AM at the chapel of Thompson Funeral Service Ltd. with interment following at Boulder Creek Cemetery in Salmo, BC.
As an expression of sympathy, donations may be made to the Salmo Legion, 303 4thStreet, Salmo, BC V0G 1Z0 or to a charity of your choice.
Funeral arrangements are under the direction of Thompson Funeral Service Ltd.
Online condolences may be expressed at www.thompsonfs.ca