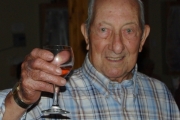 It is with great sadness that we announce the passing of Francesco (Frank) Porco, who at the incredible age of 93 passed away peacefully on February 24, 2013 at Kootenay Lake Hospital. He was a dear and cherished husband, father, grandfather, uncle, and friend to many.
Frank was born in Aprigliano, Cosenza, Italy on January 1st, 1920.  He married his love, Giuseppina on March 20, 1949 and they had two sons, Armando and Ugo.
After serving in World War II he made his way to Canada in 1951 where he worked initially in Michel, BC in the mining industry.  Nelson became his home in 1957 where he worked as a logger until his retirement. He stayed active in his community as an original member of the Italian-Canadian Society for over 40 years.
Above all else, Frank cherished his family; he was happiest during family gatherings, hunting and fishing with his sons, huckleberry and mushroom picking with his grandchildren, or making wine. He also loved working in the garden and frequently shared his bounty and gardening advice with others.  
Frank was predeceased by his brother, Domenico and his sister, Marietta.
He is survived by his loving wife, Giuseppina, his sons Armando(Heather) and Ugo(Judy), his grandchildren Jessica(Josh), Christina(Devin), Francis, and Joey(Zach); his brother-in-law, Alberto, and many nieces, nephews, and cousins.
Prayers will be recited Thursday, February 28th at 6:30 pm and Funeral services held Friday, March 1st 10:30 am from the Cathedral of Mary Immaculate with Father Jim Ratcliffe as celebrant. Entombment will follow in the Nelson Mausoleum. Both will be held under the direction of Thompson Funeral Services
As an expression of sympathy, the family welcomes donations to the KLH. Kootenay Lake Hospital, 3 View Street, Nelson, BC V1L 2V1
The family wishes to thank Dr. Malpass, Dr. Edmonds, Dr. McIntyre and the nurses and staff of the KLH for their compassionate care.
Online condolences may be expressed at www.thompsonfs.ca
Funeral arrangements are under the direction of Thompson Funeral Service Ltd.
Ciao Pa, you will be loved and missed dearly.