RCMP increase policing efforts in Okanagan amid wildfires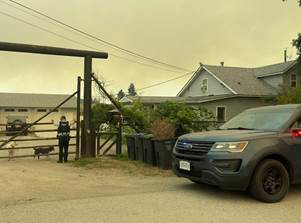 The RCMP in the Okanagan region is reassuring the community that due to the increased proactive efforts overnight, there have been only minor concerns reported.
Despite receiving a few calls regarding suspicious individuals, there have been limited reports of property theft in the affected areas.
"Our officers did encounter a couple suspicious people near a particular checkpoint, who were identified and turned away", says Cpl. James Grandy, spokesperson for the Southeast District RCMP.
"I can confirm there have been no substantiated reports of property thefts occurring within the protected areas."
In light of the current wildfire event, local Detachments have been strengthened by additional officers from across the Province. As a result, residents in the Okanagan region will notice a substantial increase in the visible policing presence.
"We're truly appreciative of the efforts of those in the community who have called to report suspicious people or circumstances," said Cpl. James Grandy.
"With the tremendous complement of additional policing supports, we assure you that we will respond to those reports timely and effectively."
We strongly advise any individuals who don't have the authorization to be within the impacted areas to stay away. This ensures frontline personnel can effectively continue their vital work in protecting lives, properties, and supporting the ongoing wildfire fighting efforts.
All the RCMP members who are serving us locally will be actively patrolling the affected communities, helping with any further evacuations, and relieving local frontline officers. This will allow for our local officers to focus on their regular policing duties ensuring the community remains safe during this challenging time."