Nitehawks eliminate Leafs from KIJHL playoffs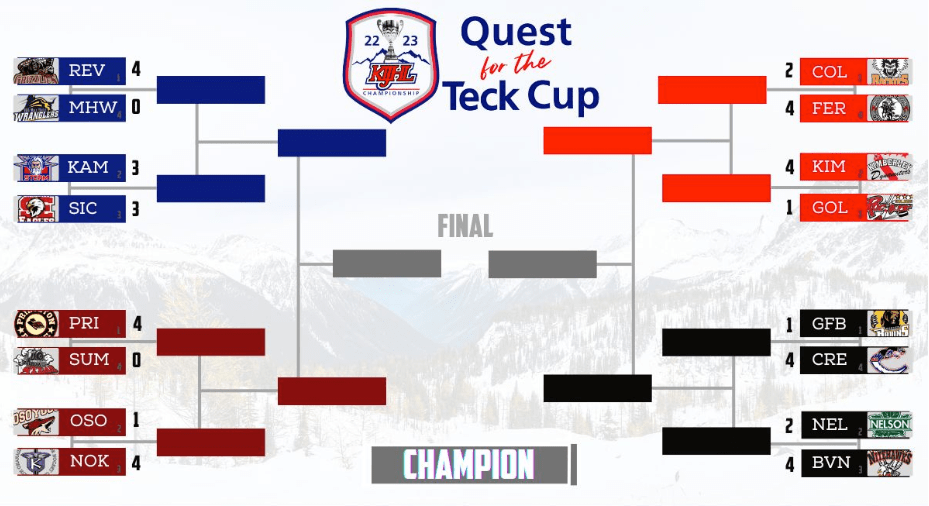 The Nelson Leafs Kootenay International Junior Hockey League season came to an end on a snowy Saturday night in the Beaver Valley.
The host Nitehawks eliminated the Leafs in six games of the best-of-seven Murdoch Division Semi Final with a 6-3 victory at the Fruitvale Arena.
Eithan Grishan scored the winner at 4:41 of the third period on the power play to lift the Nitehawks past the Leafs.
Nelson, trailing 3-1 in the series entering the weekend, had forced a Game six with a 3-2 overtime victory Friday night at the NDCC Arena.
Also scoring for the Nitehawks were Boris Hristov, Timothy Jozsa, Gavin Tritt and Ethan Smyth with two empty netters. Owen McFarlane, Ryan Quast and Carsyn Crawford replied for Nelson, which trailed 3-2 entering the third period.
Nelson outshot the Hawks 38-35.
Beaver Valley netminder Connor Stojan, registering all four wins in the series for the Nitehawks, finished with a 2.45 GAA and a .931 save percentage.
Frederick Larochelle was in goal for Nelson.
Friday, before a crowd of more than 1,100 fans, Owen McFarlane scored his first goal of the playoffs in extra time to spark the Leafs to the victory.
Leafs Carsyn Crawford and Johnny Carmichael sandwiched goals around Beaver Valley markers by Gavin Tritt and Nathan Dominici for a 2-2 tie after 40 minutes.
Larochelle made 24 saves for the win.
Saturday's game was the final contest for five 20-year-old Leafs — Tyson Lautard, Reid Vulcano, Johnny Carmichael, Kingsley Brockett and Bennet Anklewich.
Beaver Valley now hosts Creston Valley Thunder Cats, who eliminated Murdoch Division winner Grand Forks Border Bruins in five games.
Luke Charkabarti scored four goals and had two assists to lead the Thunder Cats to an 8-5 win over the Border Bruins Friday in the Boundary City.
LEAF NOTES: Nelson head coach Briar McNaney, who had the interim title removed earlier this month and is now the head coach of the Leafs, will now focus his attention on recruiting for the next KIJHL season. Nelson is hosting a combined tryout camp with the Coquitlam Express of the BC Hockey League April 7-9 at the NDCC Arena. . . . In the Okanagan Conference, Revelstoke, Princeton and North Okanagan have advanced to the second round of the KIJHL playoffs. Sicamous meets Kamloops in Game seven of the Doug Birks Division Semi Final Monday in Sicamous.