IH issues Drug Alert for Nelson, Castlegar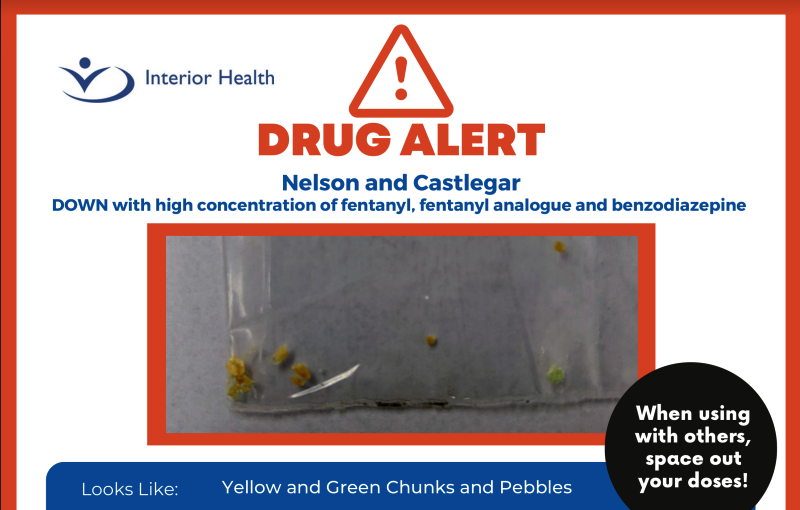 In a media release, Interior Heath issued a DRUG ALERT for Nelson and Castlegar after results confirmed a sample were found to contain fentanyl, fentanyl analogue and benzodiazepine.
Interior Health said that the drugs look yellow and green chunks and pebbles and is sold as down or fentanyl.
Interior Health said the drugs contain high than average concentration of fentanyl and fentanyl analogue and tests positive for benzodiazepine.
Interior Health said there is a high risk to overdose as well as a high risk of fatal overdose.
"Mixing with alcohol can be especially dangerous," said Interior Health.
"Focus on breathing if naloxone appears to not resolve symptoms."
"Using in the cold increases chance of overdose," Interior Health adds.
Safer drug use tips include:
If someone is experiencing an overdose or is witnessing an overdose, call 9-1-1 immediately
Smoking is not safer than injecting, be cautious when smoking your drugs
Find drug checking locations at www.drugchecking.ca
Be aware that benzodiazepine induced sedation is not reversible by naloxone
Be aware of risks mixing drugs with other drugs, including alcohol
Use with others around or at an Overdose Prevention Site (OPS)
Start with a small amount and space out your doses
Carry naloxone and know how to use it
Get the LifeGuard App — lifeguarddh.com
Call 211 or visit bc211.ca to find services near you