COVID-19 cases on the decline in West Kootenay/Boundary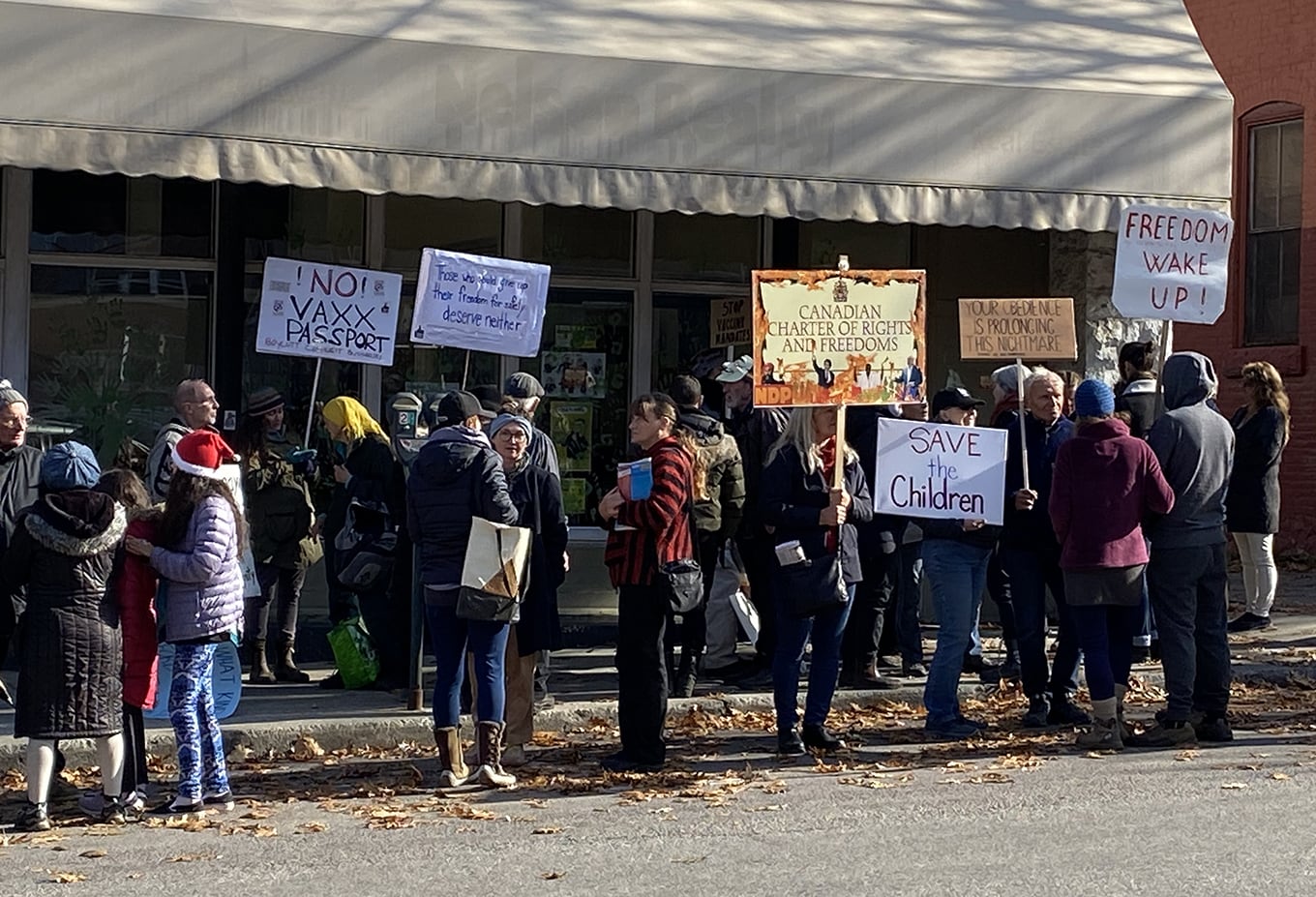 Cases are declining in the West Kootenay/Boundary according to the weekly BC Centre of Disease control Geographic Distribution of COVID-19 by local health area of case residence graphic.
Between October 10-16, 2021, the high for the West Kootenay/Boundary region was Trail with 16 new COVID-19 cases.
Earlier this month, the Silver City area reported 74 COVID-19 cases.
Both Grand Forks and Nelson areas reported 10 cases while Castlegar had seven and Kootenay Lake four.
Kettle Valley reported one case while Arrow Lakes had zero cases.
In the East Kootenay, Cranbrook reported 43 new COVID-19 cases while Windermere had 10, Creston six, Fernie five, Golden one and Kimberley zero.
In the Central Okanagan/Thompson region, Kelowna area reported 171 new cases while Kamloops had 118.
Other areas of note included Enderby and Keremeos, with 20 and 19 cases, respectively.
Protests to Vaccine Passport continue in Nelson
Monday, more 30 people staged a protest to the provincial vaccine passport outside the office of NDP MLA Brittny Anderson on Josephine Street in Nelson.
Protesters carried signs reading "No Vaxx Passport" and Your Obedience is Prolonging this Nightmare" and "Freedom Wake Up".
The protest was much smaller than the "We Must Stand Together" rally in early September that attracted hundreds of protesters to the Ward and Vernon Street intersection.
Independent COVID science group begins briefings
A new organization, dubbed Protect Our Province British Columbia, began livestreaming its own COVID-19 briefings Wednesday.
The grassroots group of health scientists, health policy specialists, doctors, nurses, and community advocates, began sharing their own information because of a growing concern about the health policies being implemented in BC.
Members of the PoP BC said they are not paid for this work and are providing their own time to this cause without renumeration or political agenda to keep people in BC safe.
The first livestream, facilitated by Dr. Amy Tan, Palliative Care & Family Physician, Clinical Associate Professor, UBC Faculty of Medicine, was livestreamed Wednesday.
The latest numbers from the BC Centre of Disease control Geographic Distribution of COVID-19 by local health area of case residence graphic show cases have declined from October 1-=16, 2021. — BCCDC
BC reports 696 new COVID-19 cases, six deaths
Wednesday, the BC Ministry of Health reported there was another 696 cases of COVID-19 and six related deaths.
Wednesday's numbers pushed the seven-day average of new infections to 621 per day, with Tuesday the province reporting 608 cases.
Most of the cases were reported in the new provincial hotspot in Northern Health, with 191 cases — the highest number of cases per capita with 67.2 per 100,000 population.
Interior Heath had the second highest with 14.2 per 100,000 followed by Fraser Health with 13.2 per 100,000.
The Ministry of Health recently announced capacity limits for organized events, including sporting games, are being lived as of October 25.
However, anyone wanting to attend events must show proof of full vaccination using the provincial vaccine card system as of October 24, 2021.
This new capacity change does not apply to regions under special restrictions, including Northern Heath, the eastern part of Fraser Health and Interior Health.
The new/active cases include:
252 new cases in Fraser Health — Total active cases: 1,929
76 new cases in Vancouver Coastal Health — Total active cases: 724
118 new cases in Interior Health — Total active cases: 795
191 new cases in Northern Health — Total active cases: 864
59 new cases in Island Health — Total active cases: 517
no new cases of a people who reside outside of Canada — Total active cases: 59
In the past 24 hours, six new deaths have been reported, for an overall total of 2,092.
The new deaths include:
Fraser Health: five
Vancouver Coastal Health: one