Bus-tastic send off in Victoria for local Tokyo bound Olympian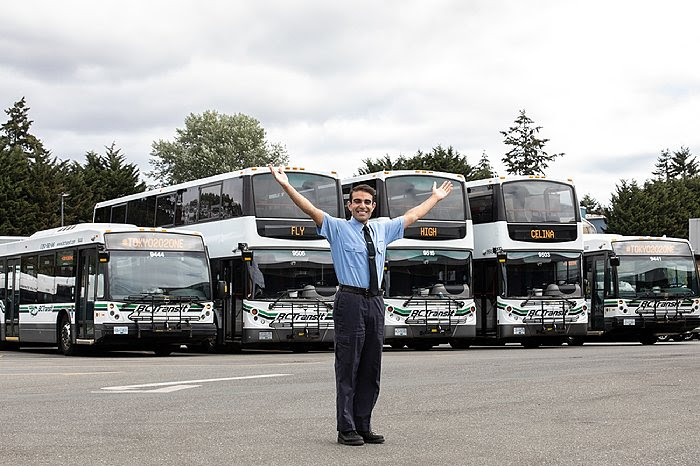 Competing on the world's biggest stage as one of the best is a dream for many athletes, and Celina Toth will be fulfilling it when she steps to the edge of the 10 metre platform in Tokyo in early August.
One of the people who will be proudly and nervously following her every move is boyfriend Stephen Bains, who happens to be a BC Transit driver.
"I'm so excited for Celina, because she has worked so hard to get to this moment," said Stephen Bains.
"I can't be there with her and I wanted to show my pride in a unique way, so I came up with an idea to use buses to send her a special message."
The global pandemic is prohibiting anyone besides athletes and Olympic personnel from traveling to Tokyo, which are still being billed as the 2020 Games due to the one-year delay.
Friends and family of athletes around the world are no doubt coming up with their own special way of celebrating the Olympians in their life, but it's safe to say Stephen's send off was one of a kind.
Stephen Bains lined up 5 buses side-by-side at the Langford Transit Centre, three double deckers bookended by two singles. With the help of the BC Transit team he had them display:
#TOKYO 2020NE | FLY | HIGH | CELINA | #TOKYO 2020NE
When Stephen sent photos of the bus message to Celina, who had already begun her long journey to Tokyo, she was blown away.
"She was actually quite shocked that we could even do that, and was kind of just marveling that her name was on the front of a bus. I jokingly quipped that we'd be driving around Victoria with her name on the display."
The 29-year old has been diving since she was 12, and the St. Thomas, Ontario native moved to Vancouver Island in 2010 to continue her training.
Because she has already arrived in Tokyo, Celina will be able to attend the opening ceremonies, and will have significant time to prepare physically and mentally for this moment she's been dreaming of throughout 17 years of extreme dedication to her sport.
"Celina's dorm room in the Olympic village is basically unfinished drywall, and she's looking to add a little colour to the walls," said Stephen Bains.
"They have a print shop on site, so she's going to see if she can get a big poster made of one of the photos I sent, which would be great."
The 10m platform event will be taking place on August 4 and 5 in Japan, but because they are 16 hours ahead of us, the event will be viewable in Pacific Time on the evenings of August 3 and 4.