Effect of pandemic continues as no slate of festivals predicted again for coming season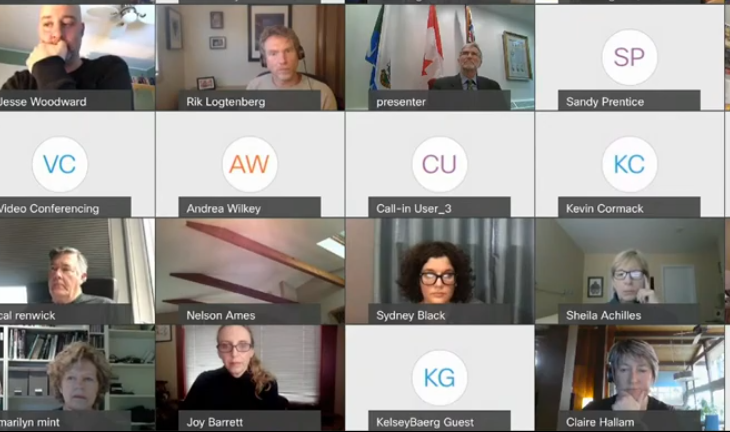 There will be no festival season in Nelson for the second year in a row, says the head of the city's leading arts organization.
Sydney Black, executive director of the Nelson and District Arts Council (NDAC), told city council in a recent checkup on the arts (in a Zoom meeting) that this year was shaping up like 2020, with no live music, arts or culture gatherings.
Social distancing and no large gatherings are still the rule in B.C. and across Canada, so the only way the Arts Council can guarantee people will have jobs is to conduct everything online, she said.
"At this point if we can pivot to in-person programming that would be ideal, but in order for us to give people confidence that they are going to be paid for their work, we need to make sure it will be a possibility no matter what," she said, adding that it meant sticking to the social distancing format online.
Last year the initial stages of the pandemic for the arts community in Nelson centred around an uncertainty of not knowing whether gatherings would be allowed, would there be music and could festivals still happen, said Black.
"No one could give us a definitive answer and that left us in complete limbo," she said.
That meant arts organizations were unable to create programming in solid formats because of the initial unknown timeline, Black added.
"Once it was clear that we were not going to be able to operate as normal every organization had to redo all of their programming and re-train all of their staff … knowing they would have little to zero income coming in," she said.
That meant eight months of "digitization" of the arts sector in Nelson, re-training staff, purchasing technical gear and then working out all of the logistical problems on how to live stream.
Although the format will likely be a permanent component of how the arts are delivered in the future, it cannot suffice as the sole means, Black explained.
"It is not a financially fiscal way to earn large revenues … and it is not feasible in the long run," she said.
The financial shortfall created by the pandemic in the arts sector has forced several local professional artists into re-training in the community (teaching professionals, care aides, etc.) and out of the arts, Black said.
"This is crushing for our community," she said. "The goal this year is to ensure as many local professional artists have as many paying gigs as possible."
NDAC is also looking to develop grant programs for local professional artists where any surplus art money will be directed to keep professional artist families afloat.
In addition, NDAC is looking to create a survey to see which local artists are the hardest hit so the arts sectors can adapt programming.
She pointed to the proposed NDAC study on "economic conditions in the arts and culture" sector as the key to how to help the arts sector.
"I really feel that a survey of all of the artists in the community is what is going to provide us the most clarity about what people actually need instead of us thinking we know what they need," Black said. "Then we would really be able to target those specific artists in those specific genres of art to make sure what they need. Until we have that data we don't know and can't best serve our community."
For the next six months the regular cycle of funding has yet to come in, so groups like NDAC are in a wait-and-see stage.
"Hopefully, we will receive our regular funding and we will be able to host things like ArtWalk (in a virtual space), the international mural festival and" some music, Black said.
"And, in the next 12 months we hope the federal and provincial governments will continue to provide funding to the local arts and culture sectors, because it is the only thing that it getting us through at this point.
"Should the relief funding be cut, or any arts and culture funding, it would be devastating to our entire community."