LVR's Maddy Bonikowsky runs her way to NCAA Scholarship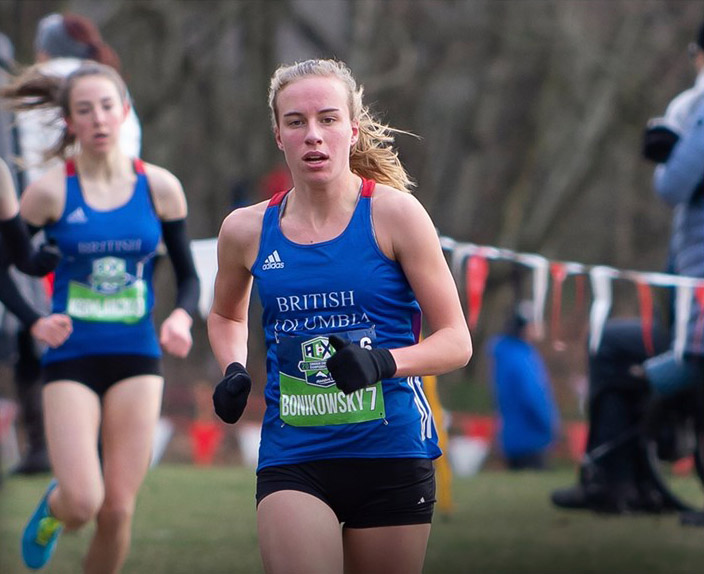 Nelson's Maddy Bonikowsky loves to run.
She loves the rawness and simplicity of running.
And she has loved running from a young age, racing recreationally against peers in elementary school.
"No equipment, no technical components; in running you must grind it out by yourself, for yourself," the Grade 12 student at L.V. Rogers High School recently said to The Nelson Daily.
That determination and perseverance earned the Bomber Senior a scholarship to the University of Utah to compete on the women's cross country and track and field teams.
Bonikowsky recently made the decision to run for the Utes during the Fall National Signing Day for NCAA schools, inking a letter of intent to attend the Salt Lake City school.
"I am extremely grateful to have been recruited by numerous university coaches both in the Canada and the United States, a few of which I chose to continue the conversation to the point of receiving a scholarship offer," Bonikowsky explained.
"I had a very thorough, yet overwhelming and challenging decision process that was prolonged even further due to the ban on in-person school visits due to COVID.
"Finally, on National Signing Day on November 11, I signed my National Letter of Intent for the University of Utah. Their coaches were one of the first to recruit me back in November 2019, so I knew there was significant mutual interest."
Utah cross country and track and field coach Kyle Kepler is excited to add Bonikowsky to the Utes program.
"She is accomplished on the track and in cross country as the reigning U18 Canadian champion," Kepler said.
"She brings a great mix of speed and endurance as a distance runner, which will greatly benefit her and our team."
The trek to Utah started for Bonikowsky in elementary school, when the now 17-year-old began running, and racing, recreationally.
In 2016, during Grade 8, Bonikowsky joined the track club at South Delta Secondary School.
In 2019, the family moved from Tsawwassen to Nelson where Bonikowsky captured the BC High School Cross Country Girl's title at the championships in Abbotsford as well as the 1500m and 800m titles at the High School Track and Field Championships.
Bonikowsky also won the U18 Canadian Cross Country Championships and BC Club Cross Country title in 2019.
However, the coronavirus pandemic arrived, pumping the brakes on most athletics, including running sports.
"For the first time, I trained consistently throughout the winter and was in the best shape of my life for this past track season," said Bonikowsky, who has won eight BC Provincial Championships, five in track and field and three in cross country.
"When (season) did not happen, I decided to do a couple solo time trials at the track in Trail for comparison sake."
"I comfortably ran faster than my previous personal bests in both the 800m and 1500m, which provided me with closure and was a nice wrap-up for my heavy training," added the daughter of Mark and Jodi Bonikowsky of Nelson.
"Also, in early November I went to Vernon for a very small cross country race."
There's no secret to success in running.
Training is a must, and Bonikowsky is seen constantly running in and around Nelson to accumulate the necessary kilometers needed to maintain peak performance.
Bonikowsky said last fall she ran 80 km during the biggest training week before averaging 50 and 60 km a week in the spring.
On average, Bonikowskytrains between 40 and 50 km each week of solely running miles as well as countless miles on the bike and skate skis.
"When I am "in-season" my training consists of three higher-intensity workouts, two easy runs (usually 40-60 minutes) and three weight room sessions where I lift for around an hour, plus a long run on Sunday (70-90 minutes)," Bonikowsky said.
When she is not running along the Nelson waterfront with her Kootenay Chaos teammates, Bonikowsky jumps on the mountain bike or cross county skate skis or swims, especially through the winter and whenever she is not fine-tuning for a big race.
"Over the past few years, I've taken a month or two off running between seasons as well," Bonikowsky said.
Kootenay Chaos coach Alex Ulaszonek — pleased to see not only Bonikowsky garner a NCAA scholarship but also Matti Erickson land a spot at the University of Oregon — said she will do quite well competing in the Pac-12 Conference against many elite runners from the USA.
"(Maddy is) very driven individual as far as wanting to do the best she can, not only in workouts but also in competitions," Ulaszonek said.
"She will do very well in the US college system since work ethic along with talent goes quite a ways in trying to compete with so many talented athletes in America."
Bonikowsky confesses not to be too optimistic regarding the upcoming BC High School track and field season due to COVID, so she "doesn't have any big goals for this upcoming season."
"If there are no championships scheduled, I think it will be in my best interest to begin transitioning into my new Utah coaches' training program and do some base work and buildup throughout the spring and summer," Bonikowsky said.
As for goals at competing in the Pac-12 for Utah.
"I would love to compete at the NCAA National Cross Country Championships on their team, as I have never had the chance to race for an actual team and be involved in team scoring," Bonikowsky said.
"I think qualifying for the NCAA National Track Championships would be super cool as well."
What Bonikowsky is really looking forward to the team aspect of Utah's program, since she has yet to have such a large and competitive group of girls to run and train against.
She hasn't set any firm goals because things can change and extra pressure can come with hard set goals.
"I know that at the start of each season I will find a few events to zero in on, but I can't say what they will be at this point, since the NCAA is such a big league and I do not yet know how I will compare," Bonikowsky said.
"I hope to stay dedicated to training and have a good time."
"Ultimately, if you are enjoying yourself, the results will come," Bonikowsky added.
"I have proven myself to be a very consistent runner, so as long as I stay engaged and trust the process, I can look forward to big performances and exciting opportunities as they arise."