All-season ski, boarding and bike resort proposed for near New Denver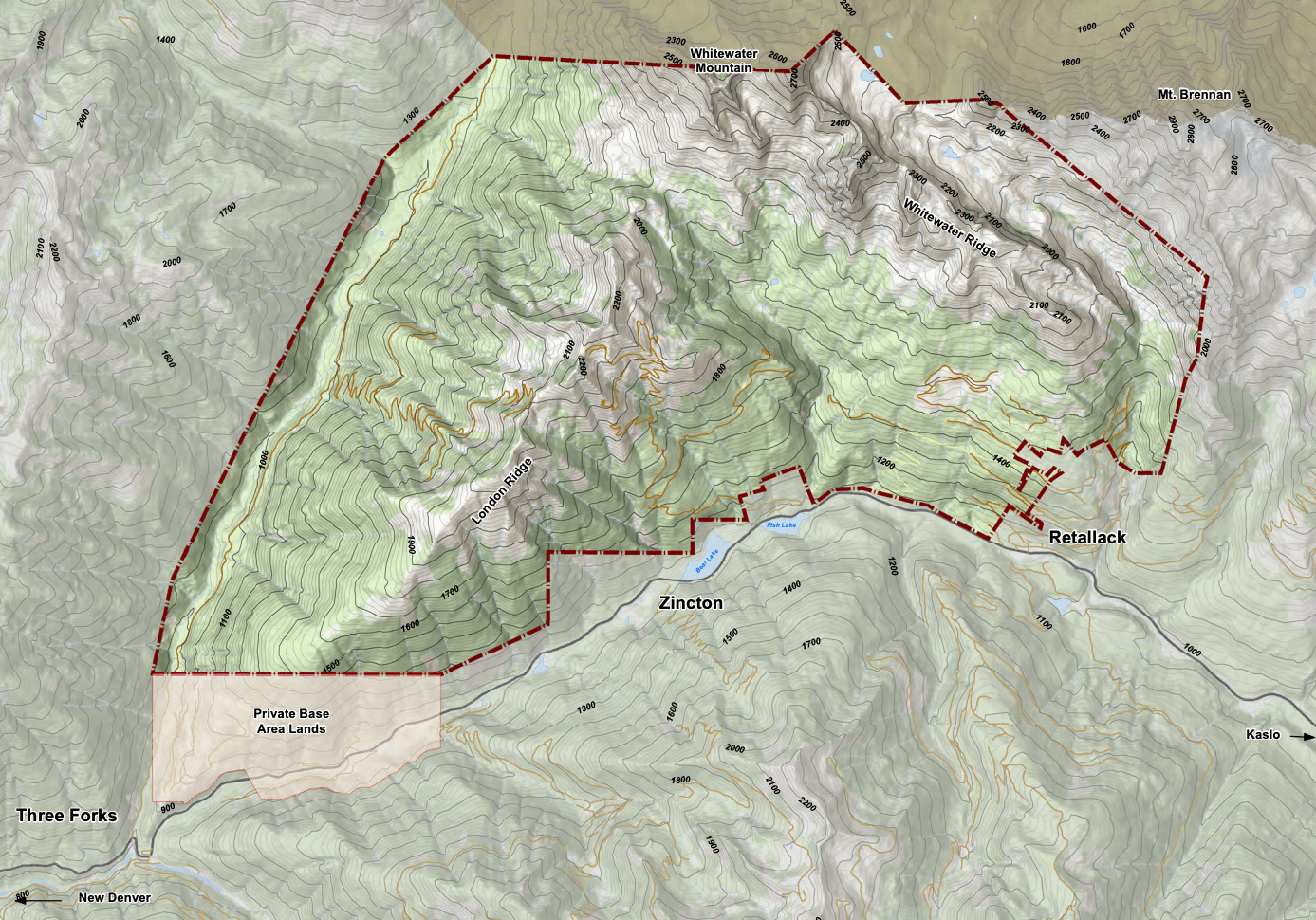 The Ministry of Forest, Lands, Natural Recourses Operations and Rural Development, represented by Mountain Resorts Branch (MRB), said an Expression of Interest has been received for a proposed all-season ski, boarding and bike resort in the mountain range between New Denver and Kaslo.
The BC Ministry said this initial stage is preliminary in nature and is intended to identify values, land use conflicts and interests that will inform further phases of potential review processes.
"All-Seasons Resort Policy provides for a comprehensive, multi-stage resort planning and development review process whereby each stage informs requirements before proceeding to a subsequent stage," the Ministry of Forests, Lands, Natural Resource Operations and Rural Developmentsaid in an emailed statement Thursday.
"This is the process that all resorts proposals in BC go through."
David Harley, founder of Valhalla Pure Outfitters, submitted the Expression of Interest to the BC Government. The document was prepared by Brent Harley and Associates.
The proposed location for Zincton, a ghost town, is within the Goat Range of British Columbia's Selkirk Mountain Range, approximately 10 mins east of New Denver along Highway 31A, in the Regional District of the Central Kootenay.
The BC Government has now reached out to the public — email: MountainResortsBranch@gov.bc.ca — for feedback regarding the project.
"If realized, this project will establish an all-season, backcountry-oriented mountain destination catering to dedicated local, regional, and international guests seeking an immersive mountain experience with world-class accommodation and amenities," the Expression of Interest said.
"The proposed development will blend the lift-serviced recreation experience offered at traditional mountain resorts with an extensive and accessible backcountry offering increasingly being sought by the skier marketplace."
The Expression of Interest said trails will range from short, accessible trails to full day mountain adventures for the more ambitious.
"Additionally, a vast existing network of old rail trails connects Zincton to Retallack, Sandon, New Denver, Slocan Lake, and beyond, creating experiences suitable to all experience and skill levels," the Expression of Interest said.
"Base area amenities will include a comprehensive Mountain Village that will meet the full range of guest needs and a remote, luxury Backcountry Lodge in Goat Canyon below Whitewater Ridge."
The proposal said the Mountain Village and a portion of the recreation facilities (e.g. ski trails, mountain bike trails) will be developed on private land adjacent to the proposed Controlled Recreation Area.
"Combined with lift-serviced skiing at either end, guests will create their own personal mix of accommodation between the Mountain Village and the remote Backcountry Lodge, and liftserviced and backcountry recreation experiences, both guided and unguided," the Expression of Interest said.
The proposal said based on preliminary analysis, at buildout Zincton would have a backcountry oriented Comfortable Carrying Capacity (CCC) of approximately 1,550 skiers per day and a Balanced Resort Capacity (BRC) of approximately 1,750 guests.
"Following the 30-day comment period, which was initiated (Thursday, May 21, 2020), the receipt of all comments and identification of any land-use conflicts, including those provided by the public in response to advertising this EOI, the feasibility of the project will be determined," the Ministry of Forests, Lands, Natural Resource Operations and Rural Development said.
"If feasible, the proponent will be invited to submit a Formal Proposal and if accepted the Ministry would initiate a more intensive and detailed Major Project review and planning process consistent with the ASRP and associated All-Seasons Resort Guidelines."
The Ministry said during this initial Expression of Interest stage and through referral at subsequent stages, MRB will engage with the Regional District Central Kootenays and the Village of New Denver to facilitate comments.
The Nelson Daily reached out to the Village of New Denver Mayor and Regional District of Central Kootenay Area Director for the Village for a comment regarding the proposal.
However, both parties were unable to forward comments prior to publication deadline.
The proposed Zincton Expression of Interest Area is sandwiched between Goat Range, Vahalla and Kokanee Provincial Parks.