Leafs overtake Nitehawks in race for Murdoch Title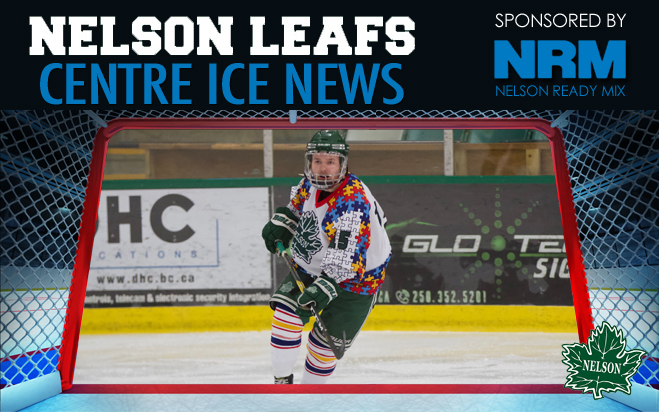 The Nelson Leafs continued its drive for another Murdoch Division title, edging the Beaver Valley Nitehawks 3-1 in Kootenay International Junior Hockey League action Saturday night at the NDCC Arena.
The victory, coupled with an identical 3-1 decision Friday over the visiting Creston Valley Thunder Cats, leapfrogs the Leafs into sole possession of first place in the Murdoch Division with two games remaining on the schedule.
Nelson, two-time defending Murdoch regular-season champ, holds a slim one-point advantage over Beaver Valley.
However, the Leafs have played one more game than Beaver Valley. The two teams resume their season rivalry Thursday in Fruitvale.
Beaver Valley will play its game in hand over Nelson Friday in Castlegar against the Rebels before the Hawks and Leafs conclude the regular season Saturday at the NDCC Arena.
Nelson took the play to Beaver Valley in the opening period, outshooting the Hawks 15-8 and taking a 2-0 lead into the first intermission on goals by Bryden Pow and Reid Wilson — the latter a power play marker.
Brandon Costa increased the lead to 3-0 in the second period before Brock Wallace scored for Beaver Valley on the power play in the final three minutes of the period.
There was no scoring in the third period as Nelson goalie Anderson Violette shut the door on the Hawks offence.
Nelson concluded the game outshooting the Hawks 32-23. Former Leaf goalie Hunter Young took the loss in goal for Beaver Valley.
Friday, Aiden Jenner, making his first start of the season for Nelson, scored twice to spark the Leafs past the visiting Thunder Cats.
Jenner, signed to a card at the January 10 BC Hockey roster deadline, scored the winning goal five minutes into the second period before adding an insurance marker late in the third.
Vin Jackson gave Creston a 1-0 after one period. Leaf Captain David Sanchez tied the game with a power play goal early in the second period.
Nelson finished the game outshooting the Thunder Cats 35-32.
Leafs goalie Tenzin Mint was between the pipes to register his seventh win of the season.
BLUELINES: Leafs Reid Wilson increased his point streak to eight games. Wilson, playing 45 games this season, has failed to register a point in just five games. . . . The Murdoch Division winner will open the playoffs Friday, February 28th against most likely the Castlegar Rebels. The Rebels picked up two key wins during the weekend to move into sole possession of fourth place in the Murdoch Division. Castlegar, which defeated Grand Forks 6-3 Friday and Creston 4-1 Saturday, lead the Border Bruins by three points in the standings. Castlegar closes out the season with home games Friday and Saturday against Beaver Valley and Creston, respectively. The Bruins are on the road in the East Kootenay against Fernie and Kimberley.