Leafs rally to edge 'Riders in OT to gain split on weekend road trip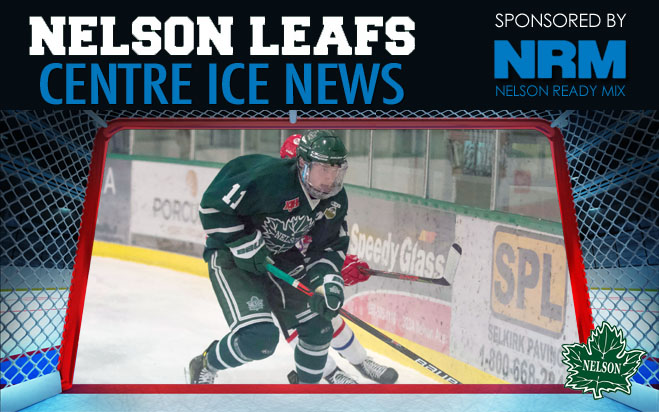 Cole Wyatt's power play goal early in the first overtime period sparked the Nelson Leafs to a 4-3 come-from-behind victory over the Ghostriders Saturday night in Kootenay International Junior Hockey League in Fernie at the Memorial Arena.
The win avenged an earlier loss this season to Fernie, a game that was also settled in overtime, and allowed Nelson to maintain top spot in the Murdoch Division. Nelson, which had a double-digit winning streak stopped Friday in Spokane against the Braves, leads second-place Beaver Valley Nitehawks by two points.
Wyatt, with his second of the game, scored seconds into the extra frame after Seamus Keith was handed a four-minute penalty for head-butting late in the third period. Alex Erichuk and Reid Wilson assisted on the game-winning marker.
The teams were tied 1-1 after one period before Fernie outscored Nelson in the second to take a 3-2 advantage into the third period. Wilson, five minutes into the third, tied the game up for Nelson.
Brady Miller scored the other goal for the Leafs. Andrew Bonham, Gavin Lawrie and Dylan Defosse replied for Fernie.
Anderson Violette stopped 38 of 41 shots to register the win in goal for Nelson. Ethan Fitzgerald took the loss in goal for the Ghostriders.
Friday, the Braves outscored the Leafs 5-0 over the final 40 minutes to dump Nelson 6-2.
Trailing 2-1 after one period, Spokane scored twice in less than a minute on the power play early in the second to turn the tables on the visiting Leafs.
Owen Miley, with his first two in the game, and Jed Butler scored power play goals as Nelson had two men in the penalty box.
Nate Wilson, George Moran and Derek Humphreys also scored for the Braves. Shawn Campbell and Keenan Crossman replied for Nelson, which was outshot 56-30 in the game.
Nelson returns home this week for a pair of home games, Friday against Chase Heat and Saturday when Grand Forks pays a visit to the NDCC Arena.
Puck drop for both games is 7 p.m.
LEAFS NOTES: Friday's loss in Spokane was the first setback since September 28th when Nelson dropped a 5-3 decision to North Okanagan. . . .Reid Wilson, with points in the last five games, leads Nelson in scoring with 28 points. Wilson has 11 points during the five-game point streak. Teammate Shawn Campbell leads Nelson in goals with 14. Kaleb Comishin, Lane Goodwin, Bryden Pow, Logan MacDonald and Alek Erichuk round out the top five. . . . Nelson goalie Anderson Violette sits fourth overall in KIJHL goalie stats.