City puts SNAP back into Railtown development with new proposed amendments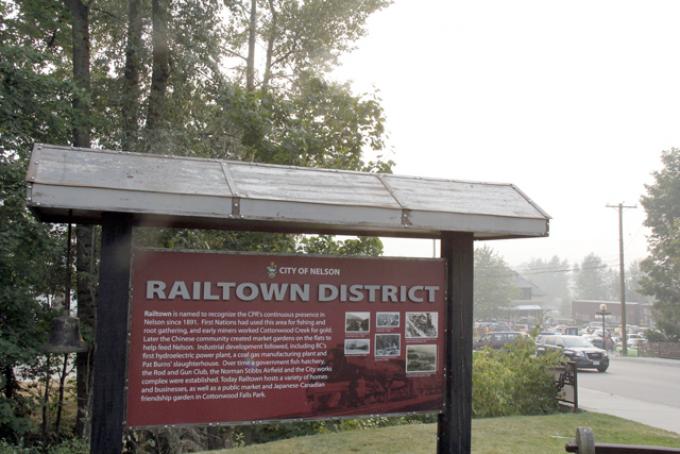 Railtown is back on track for development as the city looks to make further progress on the promise of 2018 when it revealed a plan for the neighbourhhod.
Several new bylaws are in the process of being changed and amended — with a public meeting to be scheduled — by the city to help facilitate and add to the finer points laid out in the Sustainable Neighbourhood Action Plan (SNAP).
Considered a roadmap for success for the area bounding the southwestern waterfront area of Nelson, SNAP proposed an extension of Baker Street to Government Road last year, and this year the remainder of Railtown is being considered "in order to attract investment into the neighbourhood by enabling more flexibility and options in land use."
But Coun. Britny Anderson asked for the inclusion and consideration of the city's newest industry to be included in the uses for the neighbourhood.
"(W)e are allowing alcohol but we are excluding cannabis … I'm not even necessarily looking for cultivation but I think (cannabis) processing is one of the things we should be considered in here.
She asked for two of the amendments to be referred back to staff for clarity to allow the inclusion of the cannabis processing industry.
City manager Kevin Cormack advised to let the amendments go forward without the cannabis inclusion in order to bring the matter to a public meeting, and then re-structure the documents later, after some research.
"It doesn't mean it won't go in here, but I think there needs to be a bit more research done on that," he said.
Coun. Janice Morrison said the legislation would be tweaked further after it was vetted through the public meeting and city staff research.
"So there's lots of opportunity to come back with information that comes from other sources and from the public meeting so we can correct anything that is missing at that time," she said.
The city needed to move forward with the bylaw changes as quickly as possible to allow development to take place in the area, Morrison added, which is something people have been asking for.
There are several new land uses proposed for the neighbourhood contained within Railtown, with a few MU4 parcels (waterfront mixed-use commercial/industrial) being maintained in order to preserve the city's limited industrial land base, noted a city staff report.
"The feedback from residents evidenced overall support for the proposed changes, including incentives to encourage mixed-use developments and a request for land for affordable and supportive housing," said city Development Services planner Kristin Aasen.
The current regulation forcing mixed-use developments in the MU3 zone is being proposed to be removed as this was expressed as a barrier to redevelopment.
"Instead, staff recommend encouraging mixed-use through parking relaxation incentives," said Aasen.
"Some Railtown land and business owners expressed concern over any off-street parking reductions, as this is perceived as unfair to businesses that provide the required supply, and may contribute to parking congestion in the area."
However, it was possible that the downtown parking strategy could help address congestion in the neighbourhood, "although a certain amount of congestion is indicative of a healthy downtown," noted Aasen.
Toward that end council passed first and second reading on several bylaws. A public hearing — along with required notifications pursuant to the Local Government Act — will be scheduled.
In 2016 the city put its stamp on the Railtown SNAP to help support what was anticipated as a demand for "new jobs, better physical and visual connections to downtown and Rosemont, brownfield and ecological restoration, improved public spaces and residential/ commercial mixed-use opportunities."
SNAPping to it
Implementation on SNAP began in 2018 with:
• amendments to the Official Community Plan (OCP) that required all new development in Railtown align with the SNAP;
• created a new Railtown Core Commercial Zone (C4) to allow live/work units, mechanical sales and multi-unit residential uses;
• amended the OCP land use designations and rezoned Railtown C1 (core commercial) parcels to C4;
Under the Off-Street Parking and Landscape Bylaw:
– included the new C4 zoned parcels in the downtown parking area to enable a relaxation of off-street parking requirements for mixed-use developments that included a residential component, and reduced off-street parking requirements when car-share stalls were provided; and
– allowed a proportion of required stalls to be accommodated on a newly created street or road as part of a new subdivision/ redevelopment on the Baker Street extension.
• updated the Subdivision and Development Servicing Bylaw to include standards for works and services for the new C4 zone.
— Source: City of Nelson
Zoning Bylaw amendment:
The proposed zoning changes include the following:
1. Adding the following uses to the Railtown mixed-use residential and commercial (MU3) zone:
– art gallery and museum;
– care services (i.e. assisted living units, nursing homes, and group homes);
– early childhood development centre;
– entertainment facility (i.e. auditorium, bowling alleys, night clubs, theatres, cinemas);
– health services (i.e. medical and dental clinics, counseling services, dispensing/sales);
– fire hall;
– multi-unit residential;
– mobile food vendor;
– mobile retail vendor;
– off-street parking;
– printing and publishing establishment;
– professional and business offices;
– public administration;
– social services centre (i.e. counseling, advocacy, food or clothing; emergency shelter);
– new definition: indoor urban agriculture — the indoor production of plants for wholesale or retail sale, including culinary mushrooms, sprouts, vegetables and herbs but excludes the cultivation of cannabis and activities that emit hazards or light pollution.
2. Add the following conditions of use to the MU3 zone to compliment the best practices for off-street parking regulations in the Railtown core commercial (C4) zone:
off-street parking accessory to the principle use shall be located to the rear of the principle structure;
a maximum of 50 per cent of the gross floor area of a building at street level may be used for off-street parking and shall be located to the rear of the structure; and
off-street parking as a principal use shall be subject to a development permit and include extensive landscaping and drainage facilities to minimize runoff.
3. Unbind commercial uses from residential in the MU3 zone (currently commercial uses are only permitted when combined with residential dwelling units, and residential uses are only permitted when combined with a non-residential use).
4. Enable in the waterfront mixed-use — industrial and commercial zone (MU4) Fire Hall and the new use category indoor urban agriculture for Railtown parcels.
5. Enable more creativity in food, beverage and artisan manufacturing by adding the underlined wording to the following definition:
"Custom indoor manufacturing" means a use providing for small scale on-site indoor production of goods by hand, manufacturing primarily involving the use of hand tools. Typical uses include but are not limited to: toy and musical instrument manufacturing, specialty food and beverage products, blacksmiths, artist studio, pottery studios, woodworking, textiles prototypes and product design, innovation and incubation spaces. May include accessory retail sales, educational programming, product sampling, indoor or outdoor seating but excludes cannabis products).
6. Amend the definition of "retail store" to enable accessory repair in order to reflect current land uses; the change would apply throughout the city.
Off-Street Parking and Landscape Bylaw amendment:
– expand the downtown parking area to include Railtown mixed-use — residential and commercial (MU3) zoned parcels:
– extend the incentives for mixed-use developments — reduced parking requirements for commercial/institutional-residential developments by enabling:
a. a financial contribution to the city's Active Transportation Reserve Fund in lieu of providing off-street parking spaces for new buildings;
b. reduced vehicle parking spaces to 50 per cent of the total number that would otherwise be calculated; and
c. car-sharing to displace four parking spaces for every one car-share stall.
Sign Bylaw amendment:
City staff is proposing to include MU3 (Railtown mixed-use — residential and commercial) zoned parcels in the Sign Bylaw District A. This would:
1. enable sandwich board signs to be permitted on city boulevards in the MU3 zone;
2. require compliance with the design guidelines, including limitations on specific materials, lighting, location and colors; and
3. reduce the maximum area of a sign from six square metres to two sq. m. and height from six m. to 3 m.
— Source: City of Nelson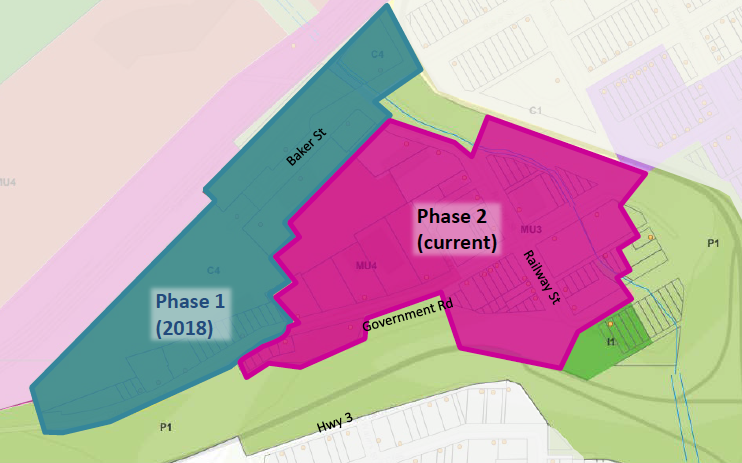 A map shows the proposed layout of Railtown. — Photo courtesy City of Nelson