Environment Canada issues Thunderstorm Watch for Boundary, West Kootenay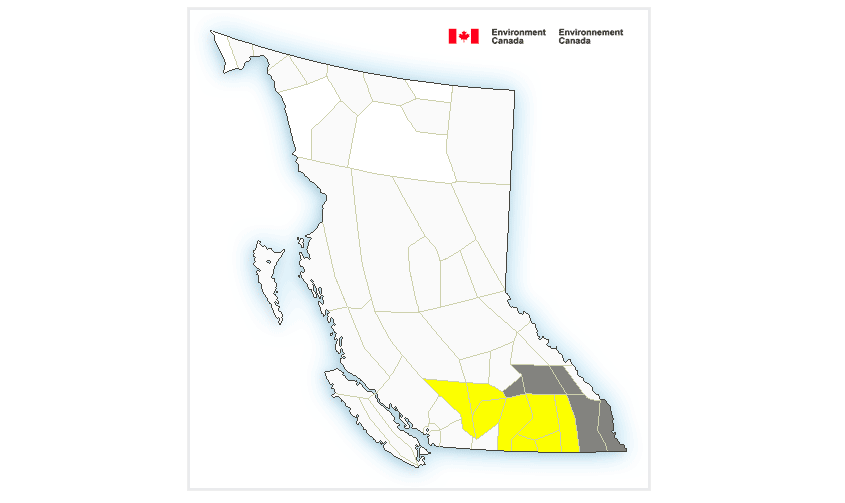 Environment Canada has issued a Severe Thunderstorm Watch on top of its recent Special Air Quality Statement for Boundary, West Kootenay, Arrow and Slocan Lakes and Kootenay Lake regions.
Environment Canada said an approaching upper level disturbance will bring conditions favourable for the development of severe thunderstorms Saturday afternoon and evening.
"These thunderstorms are capable of producing frequent lightning, gusty winds and rainfall rates of 15 to 25 mm/hr," Environment Canada website said.
"Intense lightning is likely with any thunderstorm that develops. Heavy downpours can cause flash floods and water pooling on roads. Lightning kills and injures Canadians every year. Remember, when thunder roars, go indoors."
Meanwhile Environment Canada expanded its Smoky Skies bulletin to include the entire southeastern BC Interior.
"The change in the weather has resulted in smoke being advected into more areas," Environment Canada said.
"It is not clear how much of the smoke is from the Eagle Bluff fire near Oliver, but smoke transport models indicate that smoke from fires in Washington State is moving into BC."
Environment Canada said during a wildfire, smoke conditions can change quickly over short distances and can vary considerably hour-by-hour.
Wildfire smoke is a natural part of our environment but it is important to be mindful that exposure to smoke may affect your health.
People with pre-existing health conditions, the elderly, pregnant women and infants, children, and sensitive individuals are more likely to experience health effects from smoke exposure.
The bulletin can be accessed online .