LVR Junior Bombers sweep past rivals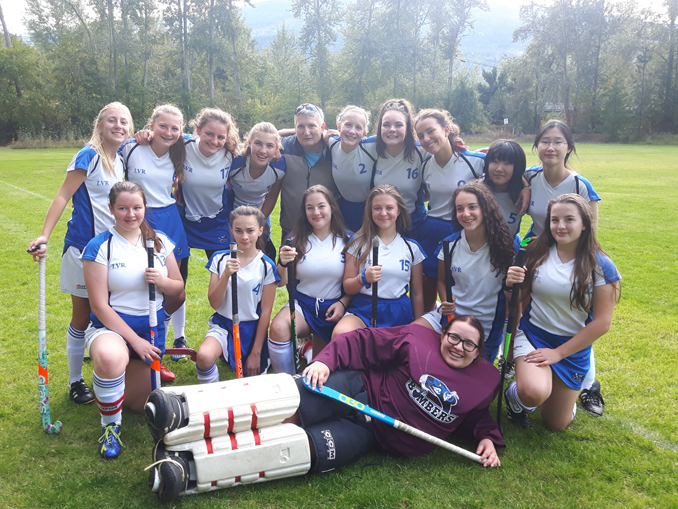 High School Fieldhockey is back and so are the L.V. Rogers Junior Bombers.
The Junior Bombers scored a pair of wins over Stanley Humphries of Castlegar and Trail's J. Lloyd Crowe Grade 8-9 team in action at Pass Creek Park in the Sunflower City.
First up for the Bombers were the Rockers of Stanley Humphries, who are rebuilding after losing most of her seniors. 
"After a sluggish start the girls began to get into a rhythm and move the ball around with more success," said Bomber coach Bruce Walgren. "The Bombers controlled much of the play en route to a 5 – 0 win on goals by Gioia Valk with a hattrick, Elle Schlegel and Zoe Baxter each with singles."
Against J. Lloyd Crowe, in a evenly played match, Walgren said the Bombers found a way to get the win through two exchange students Gioia Valk and Elle Schlegel as they combined to score four of the Bombers five goals to post a 5 – 0 win. 
Gioia and Elle both scored a pair and Zoe Baxter netted a single. Keeper Johanna Brochagen recorded both shutouts. 
"Strong defensive play by Emma Chirico, Rayne Fulgin, Marisa Price, Jessica McLeod and Skyla Short," Walgren explained. "Very good midfield work by new comers Erica Potkins, Paris Miesner, Ariel Fulgin,  Several exchange students play for the Junior bomber squad and played very well considering they have never played before, Ruka Kato, Africa Bajils-Garoz, Siyeon Noh and Alba."
Next up for the Bombers is a Senior league contest versus Stanley Humphries Thursday at Pass Creek.