Local businesses benefit from extension of Export Navigator pilot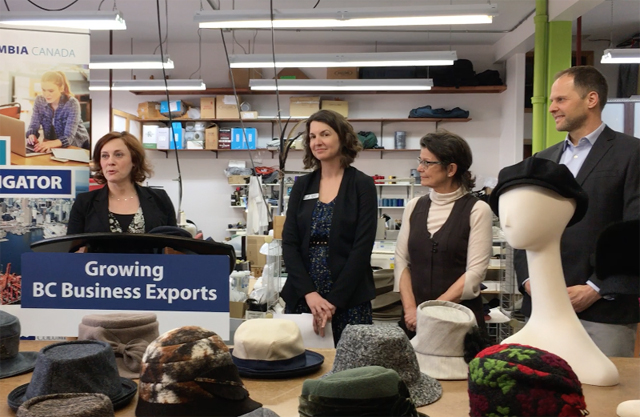 A Nelson business is just one of the success stories behind the Export Navigator program.
And those success stories will have more time to grow after the Government of British Columbia said during a media briefing Wednesday afternoon at Lillie & Cohoe Millinery Design Studio in Nelson that the Export Navigator program has been extended for another year.
"Being able to live here in Nelson and access personalized help in navigating the complex world of international commerce is a huge benefit," said Liz Cohoe, owner and designer at Lillie & Cohoe, a millinery design studio.
"The Export Navigator pilot has helped me access more efficient ways of moving my products into the U.S., and as I look to further expand my business into new markets, I'll continue to rely on my advisor for ideas, connections and advice."
Minister for BC Minister of Energy, Mines and Petroleum Resources Michelle Mungall, who was standing in for George Chow, Minister of State for Trade, said during the Wednesday's media briefing that the Export Navigator is meeting a need to help small- and medium-sized business owners and entrepreneurs throughout B.C. build capacity to reach new market.
The Province said the pilot program, which continues to help small businesses and entrepreneurs in rural regions get their goods and services to new international and interprovincial markets, has grown by 50% in the past six months, with 52 businesses taking advantage of the free service for the first time.
The pilot will be extended to March 31, 2019, through $607,800 in funding from the Province, and in-kind support from Western Economic Diversification Canada's Community Futures network partners.
"This pilot fosters innovation and growth, and helps local businesses scale up and become globally competitive," said Navdeep Bains, federal Minister of Innovation, Science and Economic Development and Minister responsible for Western Economic Diversification Canada.
"We are pleased to support the extension of this pilot, which will help even more rural businesses capitalize on economic opportunities beyond their front doors."
The Export Navigator pilot helps B.C. businesses in six B.C. regions become export ready, by providing access to community-based export advisors who connect businesses with programs and services that are unique to their business needs.
Specially trained export advisors provide personalized, step-by-step approaches to help businesses prepare to become exporters, navigate the services available to them and tackle the logistics of customs certifications and other export requirements.
"Nelson has a strong entrepreneurial spirit and extraordinarily vibrant business community," said Mungall, MLA for Nelson-Creston. "The Export Navigator pilot is an important link to innovation and new economic opportunities for communities like ours in the Kootenays."
Since the launch of the pilot program in October 2016, 157 companies have engaged with Export Navigator. Twenty of them are in the final stage of the program, which focuses on export market strategies. Program participants are primarily focused on exports to Canadian provinces, the United States and China.
The Export Navigator pilot was developed by the Province in partnership with Western Economic Diversification Canada, Small Business BC, Community Futures offices and the Comox Valley Economic Development Society. The pilot supports the collective commitment to building a strong, sustainable economy that works for everyone, by growing regional economic development and helping small businesses export their goods and services.
Quick Facts:
Export Navigator is available in the following six B.C. regions: Cariboo, Central Vancouver Island, Comox Valley, Kootenay Boundary, North Okanagan and the Pacific Northwest.
To date, more than 157 B.C. businesses have benefited from the Export Navigator pilot.
The largest groups of participating businesses are from the agrifoods sector, followed by manufacturing, consumer goods and clean technology.
In 2017, total British Columbia goods exported worldwide were almost $44 billion.