Smoky Skies Bulletin the norm for the next few days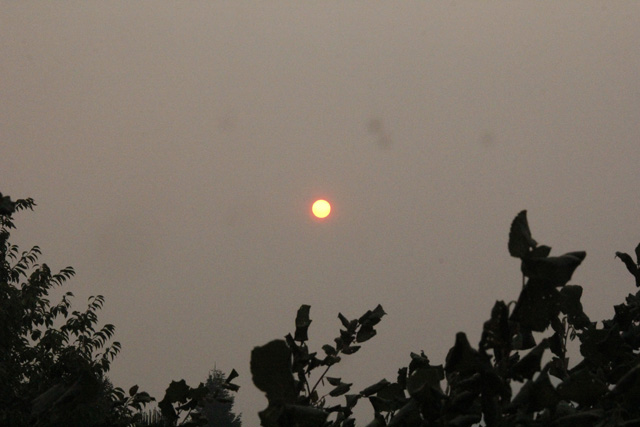 According to the FireSmoke.ca website, the smoke plaguing the Boundary/West Kootenay is going to be intense over the next few days.
The website for heavy smoke filtering into the region through into Thursday.
The high smoke accumulation has the Ministry of Environment & Climate Change Strategy, in collaboration with the Interior and Northern Health Authorities to continue its Smoky Skies Bulletin that was last updated on Friday, September 01 due to changing smoke conditions.
Areas now covered by this Bulletin include: 100 Mile, Arrow Lakes – Slocan Lake, Boundary, Cariboo North (including Quesnel), Cariboo South (including Williams Lake), Chilcotin, East Columbia, East Kootenay, Elk Valley, Kootenay Lake, Nicola, North Thompson, Okanagan, Shuswap, Similkameen, South Thompson, West Columbia, West Kootenay and Yoho Park – Kootenay Park.
"Smoke concentrations will vary widely as winds, fire behaviour and temperatures change," Environment Canada said.
Environment Canada said the public should avoid strenuous outdoor activities.
"If you are experiencing any of the following symptoms, contact your health care provider: difficulty in breathing, chest pain or discomfort, and sudden onset of cough or irritation of airways. Exposure is particularly a concern for infants, the elderly and those who have underlying medical conditions such as diabetes, and lung or heart disease."
Environment Canada said the Bulletin will remain in effect until further notice.
"Stay inside if you have breathing difficulties. Find an indoor place that's cool and ventilated. Using an air conditioner that cools and filters air may help. If you open the windows you may let in more polluted air. If your home isn't air-conditioned, consider going to a public place (library, shopping mall, recreation centre) that is air-conditioned."
After experiencing the smoke and 30-plus Celsius temperatures for the next few days, smoke could be a thing of the past come Friday when Environment Canada is calling for a 60 percent chance of showers Friday and Saturday.
For more information on current air quality, see: www.bcairquality.ca.
Visit www.airhealth.ca for information on how to reduce your health risk and your personal contribution to pollution levels, as well as for current and forecast AQHI values.