Nelson Brewing releasing coffee stout to celebrate Christmas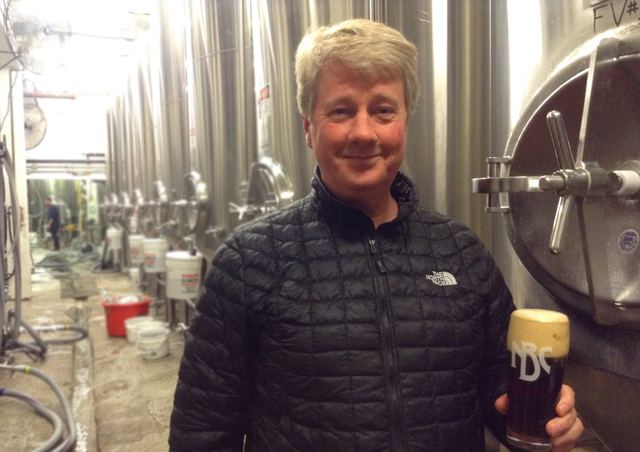 There's a special batch of Christmas cheer fermenting at the Nelson Brewing Company this month.
Next week Nelson's oldest craft brewery will release "Oso Negro Prince of Darkness Organic Coffee Stout", a coffee-infused concoction to celebrate the season, and the company's 25th anniversary of creating unique beers in the Kootenays.
"For Christmas we thought, we should do something special, and Oso was the obvious one we wanted to bring for Christmas," says NBC Marketing and Sales Manager Al McLeod.
A coffee-infused stout beer is not as unusual as it seems- the combination has been popular for many years among lovers of dark beer. It's one of those you-got-your-chocolate-in-my-peanut-butter happy mixes of different flavours.
"We had the conversation that I'd walk around the corner with a pint of beer and (Oso Negro owner) John Meyer's walking down the street with a coffee we'd bump into each other and boom! We made the beer," he says.
And it made sense to work with Oso Negro to create this blend. The coffee maker roasts in another part of the Latimer Street building that houses NBC, and the two companies share many of the same values and community conscience.
"We all drink Prince of Darkness coffee in the morning every day, we all enjoy it, and John drinks our beer," says McLeod. "People like to call (our companies) the legendary liquid-makers of Nelson and our businesses are cornerstones in the community. At the end of the day I'm really proud of working with someone like John."
Oso Negro owner Meyer says it was easy to agree to work with the brewers on this project.
 "To partner with somebody as rambunctious and flexible as NBC, they have a history of being colourful, quite creative," says Meyer. "And it's a lot of fun . Life is short. To be able to see a little of our coffee in some of their great beer, absolutely, let's see what happens." 
The coffee-stout also celebrates the brewery's milestones and accomplishments this year. 2016 is the 25th anniversary of a group of investors re-establishing the historic Kootenay brand. And awards came on thick and fast this year- NBC's Hooligan Organic Pilsner won First Place at the BC Brewing Awards for a North American Light Beer, while its Wild Honey and Nelson After Dark won top Blonde Ale and British Brown Mild respectively.
McLeod says they want to make this Christmas edition a beer to remember.
The beer will be brewed, then infused with fresh roasted coffee just before bottling. Only 4000 liters of the brew will be made, and shipped to retail outlets only within a 160-kilometre radius of Nelson.
"Were actually going to be quite careful about that," says McLeod. "Ten kegs are going to the Hume Hotel, they'll have that on tap for the Christmas season. And 400 cases- I have them all sold- they've been all spoken for by local outlets.
"First day of release we'll get them out to the stores and you can pick them up."
To sweeten the Christmas pot a little more, a goodly portion of the proceeds from the batch's sales will be going to support Kootenay foodbanks.
"We also wanted not to just take advantage of using our names to benefit us at Christmastime, so proceeds from the beer, a large portion will be donated to our local food banks. So we're going to give back to our community, that's important to us because Christmastime can be sad for some people."
McLeod says they expect to donate about $2,000 to local food banks from proceeds from the special edition.
And just what does coffee and beer taste like together? If you've never tried it, Mcleod says this is the one for you.
"Our new brewmaster Jerry Grant and the crew worked hard to get this brew as good as it could be. And I believe- and I've been here 17 years- I believe it's the best beer we've brewed in this brewery.
"And I'll say this out loud, and it's hard to get me to say that."
The Prince of Darkness arrives on store shelves from Kaslo to Grand Forks December 12. And that's a good thing.
And that sort of sums up 2016.