New 'winter ready' rules for drivers on BC highways begin October 1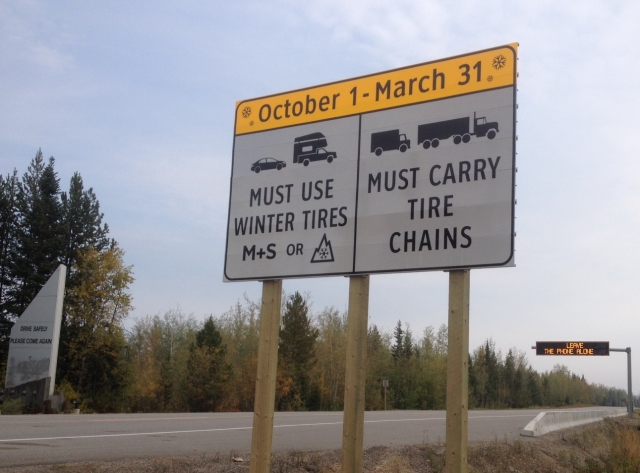 It's a reminder that winter is really just around the corner as the BC Ministry sends out information about the provincial winter tire rules come into effect as of Saturday, October 1.
The rules mean drivers are required to equip their vehicles with winter tires if they plan to travel on certain highways in the North, Southern Interior (such as Coquihalla, Highway 5; Hope/Princeton, Kootenay Pass and Blueberry Paulson on Highway 3), the South Coast  and Vancouver Island.
"Drivers who travel on high mountain passes and designated routes where weather can suddenly change need to make sure their vehicles are winter ready," said Minister of Transportation and Infrastructure Todd Stone in Monday's media release.
"We want to be certain drivers are prepared for unpredictable and changing driving conditions. Make sure you are using winter tires that are in good condition, with solid treads, and adjusting your speed to match road and weather conditions."
In British Columbia, winter tires are defined as those labelled with either the Mountain Snowflake symbol or the Mud and Snow (M+S) symbol. Winter tires must be in good condition with a minimum tread depth of 3.5 mm, and must be used on designated highways October 1 to March 31.
Winter tires improve driving safety by providing better traction in snow, slush and icy conditions. Drivers are also reminded to check tire air pressure frequently, as it decreases in cold weather.
Commercial vehicles that are 27,000 kg gross volume weight (GVW) and greater, such as tractor trailers, are required to carry chains on the designated routes. The ministry recommends that commercial vehicle drivers keep chains onboard at all times and must be prepared to install them when conditions warrant.
Signs are posted to identify those highways where winter tires are required for lighter cars and trucks, and chains are required for heavy commercial trucks. These routes are generally located approaching high mountain passes and highways which see significant winter conditions and where conditions can change from rain to snow very quickly.
Since more than 60% of B.C. motorists drive in parts of the province where snow conditions are not common, the ministry is not considering requiring all drivers to equip their vehicles with winter tires – it's only for motorists travelling on the designated routes.
Drivers planning to travel through these designated routes are encouraged to "know before you go" and check DriveBC.ca for the latest for latest highway conditions, highway cams, route forecasts and delay information.
Quick Facts:
Drivers who don't have the proper winter tires on their vehicle on the designated routes can receive a fine of $121.
Drivers who don't have the minimum tread depth on their tires (3.5mm) on the designated routes can receive a fine of $109.