TPP not in the best interest of Canadians says Council of Canadians organizer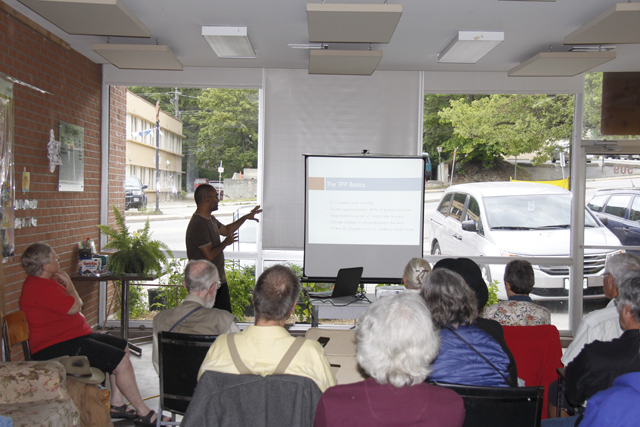 A small crowd received a huge eye openner during an informal discussion on the Trans-Pacific Partnership (TPP) Wednesday at Bigby Place in Nelson.
The event was hosted by the Nelson Chapter of Council of Canadians.
Harjap Grewal of the Pacific Regional Organizer for the Council of Canadians gave the audience an eye-opening overview of the TPP.
He said the TPP is a secretive, multinational trade agreement that threatens to extend restrictive intellectual property (IP) laws across the globe and rewrite international rules on its enforcement.
The 12 nations that negotiated the TPP are the U.S., Japan, Australia, Peru, Malaysia, Vietnam, New Zealand, Chile, Singapore, Canada, Mexico, and Brunei Darussalam.
On February 4, 2016, TPP Ministers signed the TPP Agreement in Auckland, New Zealand.
The Government of Canada has said it is committed to being transparent, open and consultative with Canadians on the TPP.
Also speaking during Wednesday event was Alex Atamanenko, former NDP member of Parliament for BC Southern Interior and a member of the Canadian Union of Postal Workers, who discussed how workers would be affected by this deal.