Shedding light on city solar garden project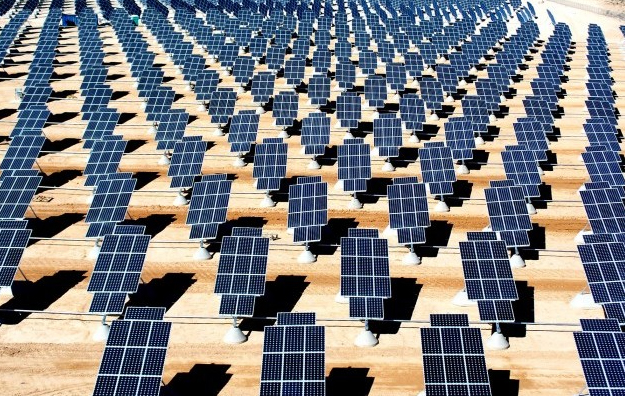 The sun could be set to rise on a new solar garden project for Nelson.
After receiving some support at a recent community engagement café, the city's EcoSave program coordinator was tasked with investigating the possibility of setting up a way to make solar energy accessible for the broader population of Nelson.
Called a community solar garden — a centralized solar panel array installation — people could choose to subscribe to a portion of the solar array and receive a credit on their utility bill in proportion to investment, doing their part for the environment by using green energy.
"This type of project makes solar accessible to those who wouldn't otherwise be able to access it such as: renters; those with unsuitable rooftops; and those who cannot afford an installation on their own," said EcoSave program coordinator Carmen Proctor in her presentation to city council on Monday, June 15.
The program could be less expensive for people who want to use solar energy, but aren't able to afford the cost of setting up their own system.
The idea that came out of the community café was to build a demonstration solar array, placed where there was maximum energy production and ease of acquisition and accessibility.
Utilizing solar sensor data, a solar pathfinder, and the PVsyst energy generation modeling software, the city's former transfer station site was deemed to be the best for an array installation.
Davies Street Park, Elephant Mountain and the airport were also found to have good solar potential.
Proctor said factors such as social acceptance, accessibility, permits and regulatory requirements "made the locations less favourable."
As well, the Chamber of Commerce parking area (Railtown), the Bonnington Generation Station, Selkirk College's roof and the Chako Mika Mall roof were also favourable.
The design discussed in the cost study report would require an unshaded area close to a full size soccer field. The design of the array can be configured to fit various shapes of land parcels and roofs.
Proctor said the initial project would be small with the option to expand, while participation in the solar garden would be available to Nelson Hydro customers on a voluntary basis.
The solar array would be installed in potential locations and would feed into the Nelson Hydro grid — becoming part of Nelson Hydro's capital assets. Customers would have no ownership rights to the solar system itself.
If council approves the project, location selection and costing could begin in early summer, with bylaw amendment coming this summer, followed by a community information meeting in late summer.
By fall of this year, a deadline for commitments would be set. Twenty-five year contracts would be set up for customers to receive a solar credit on their Nelson Hydro bill on an annual basis in proportion to their investment.
The solar credit would be measured in kilowatt hours for the energy produced.
If the pre-sale commitment is met, construction could begin this fall.
Nelson Hydro has already set aside a budget of $25,000 for the Community Solar Garden in the 2015 business plan. City manager Kevin Cormack said the city is currently pursuing additional grants to help fund the start-up of the project.
Council referred a formal decision on the project to the next regular council meeting in July.
Arts residency program
There was much dancing around the first item on city council's committee-of-the-whole meeting agenda Monday night.
Shannon Cooney — choreographer, dancer and educator — is featured in the 2015 Oxygen Arts Residency Program, and she gave city council a taste of what is to come.
Cooney explained her practice and approach to dance to council, outlining her residency program at Oxygen and ended with an interactive piece.
A Canadian performance artist who is currently based in Berlin, Germany, Cooney studied dance at York University in Toronto and since graduating in 1992 has worked in Canada, Europe and the U.K.
An internationally-recognized choreographer, dancer and dance educator, Cooney will bring a number of outreach events to the city this summer, including: studio visits, workshops, artist talk and a studio event.
Another burning issue
Nelson Fire Rescue Fire Chief Len MacCharles presented a 35-year Provincial Service Award to Captain Gordon Rae. MacCharles also publicly thanked auxiliary firefighter Peter Defeo for his donation of a MSA Rapid Intervention Team Kit (RIT) to the Nelson Fire Rescue Service.
Broadly speaking about broadband
The city's burgeoning broadband service is now reaching out to the broader business community in Nelson.
The city's newest employee, Allison Sutherland of the City of Nelson IT department, told council Monday night the potential positive economic impact that broadband services can provide to the community may be significant.
As a result, in order to support the city's growing broadband network, the new position of IT and fibre manager was created.
Sutherland said the current slate of city customers includes 21 unlimited service sites (including the Regional District of Central Kootenay, the provincial government and School District 8) and 26 businesses.
And with earned revenue as of May 31 around $8,530 per month, the city is now targeting the greater business community, she said.