Water levels close to normal in West Kootenay, as parts of Washington face drought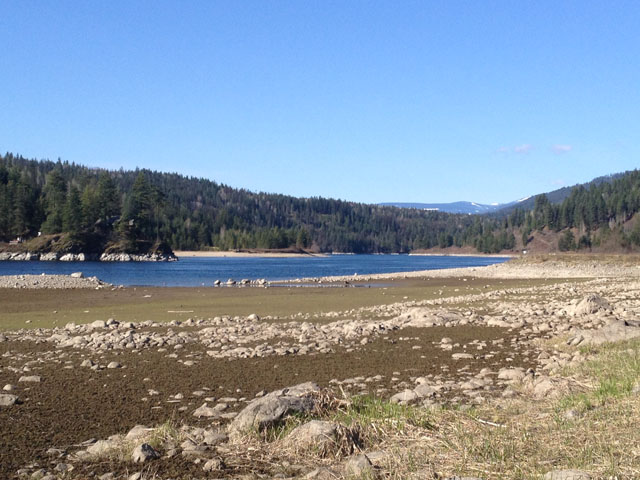 Drought has been declared in many parts of Washington State, and April's weather report shows the West Kootenay had a significantly drier start to spring than normal.
But things are still looking fairly normal in terms of water supply for the region, according to officials.
Just south of the 49th parallel, Washington's governor declared a state of drought in 24 of the state's watersheds as of late April — a condition that's put into place when a region's water supply is at 75 per cent of normal or worse.
While the state has had a fairly normal year in terms of rain, the winter weather was about 5 degrees F warmer than normal. This gave the state its warmest winter ever and left little in the way of snowpack to feed waterways and reservoirs over the course of the summer.
Here at home, weather data from the Southeast Fire Centre showed precipitation in April was half the normal amount for the month, and the region experienced an extremely warm February month with seven daily mean maximum temperatures.
A quick look at Kootenay Lake and the Kootenay River shows what appear to be unseasonably low water levels for this time of year, but according to FortisBC, which monitors water levels in the system, things are still looking fairly normal.
"Lake levels are looking slightly less than normal because of less precipitation," said FortisBC spokesperson, Grace Pickell.
She added that the majority of snowpack in the high alpine has yet to melt, and as it does, the lake levels will rise with it.
"We still anticipate a normal peak for the lake," she said. "It will depend on the speed of the snow melt."
The snowpack, however is not looking quite so normal.
According to the provincial Ministry of Forests, Lands and Natural Resource Operations, the warm temperatures over the winter have left the region's snowpack at 72 per cent of normal, or a "moderately low snowpack" – as of the beginning of April.
The weather outlook as per the ministry bulletin shows predictions of "very high likelihood" of above normal temperatures from April to June across the province.
Ron Lakeman, weather forecaster at the Southeast Fire Centre in Castlegar says weather patterns beyond this week are tough to predict, but there are indications some wetter weather could be in the immediate forecast.
"There are some indications of a more unsettled pattern with a greater chance of showers and cooler temperatures by Monday or Tuesday or Wednesday, next week," Lakeman said.
In terms of a longer-term predictions, he said there are some models predicting a warm and dry summer and others that say the opposite – so it's hard to say what kind of summer the region could have in store.