Nepal Earthquake hits close to home for former Nelson couple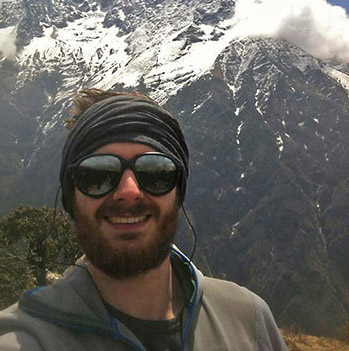 The earthquake in Nepal hit a little too close to home for a former Nelson couple now living in Chilliwack.
The son of Dean and Val Monty, Shaun, was visiting the Nepalese City of Pokhara when a 7.6 earthquake struck the region Saturday.
Thankfully, Shaun and two friends, Robertson Mackenzie and Ashleigh Brooks managed to get through the massive quake unscathed.
"We got a call from a friend on Saturday morning telling us about the earthquake and as a mom of course my immediate reaction naturally was a sense of "panic",' Val Monty told The Nelson Daily this week.
"We got online right away and Shaun had already sent us a message that they were "okay" and "safe".
"I was never more grateful for the internet as I was in that moment."
Val and Dean Monty grew up in Nelson, graduating from L.V. Rogers High School in the mid-70s before getting married.
The couple left Nelson for Chilliwack where Dean obtained a degree in dentistry.
The couple raised their family in the Fraser Valley where Dean is a practicing dentist.
Val Monty said Shaun and a friend had gone to Nepal for a month to trek the three passes circuit and go to the Lower Everest Base Camp.
She said the trio made it to Base Camp, but due to unseasonably snowy weather, were not able to climb the other peaks as planned.
So the group headed out of the mountains back to Kathmandu and then to Pokhara a week earlier than expected.
Pokhara is about 200 kilometers north west of Kathmandu and 80 kilometers from the epicenter of the quake.
The area is popular for backpackers and tourists and has a population of about 250,000.
"Since the quake hit the tight knit group of international backpackers that Shaun has become friends with have banded together to do what they can to help in the relief efforts in the immediate area of Pokhara," Monty explained.
"They have been helping in the hospital and gathering supplies/clothing and medicine and distributing them to the remote areas that were hit very hard."
Monty said more than 2000 families in the area of Pokhara alone have had their homes severely damaged or completely destroyed and are without shelter.
This all happening on the eve of the monsoon season.
Monty said the Red Cross has sent out 600 tarps (only enough for 200 families) and the local supplies have been depleted.
The Nepalese government said the recent death toll from the quake has risen to 6,130 with 13,827 injured.
The UN states more than eight million people have been affected and about 70,000 houses destroyed.
Dozens of countries are supporting the aid operation, contributing search-and-rescue teams, aircraft, medical supplies and communications equipment.
"At our end it has been a very scary few days and a rollercoaster of emotion from relief, overwhelming gratitude, fear and immense pride for what these backpackers are doing to help," Val Monty said.
"Right now it is anxiousness as (Shaun and friends) have left their relatively safe location and are back in Kathmandu awaiting their scheduled flight home."
Val Monty said Shaun has joined forces with group of BC travellers form the Backpackers for Nepal Earthquake Relief fund.
The goal is to raise $25,000. Already the site had accumulated $7,700.
There are other agencies people can use to help the cause in Nepal.
Monty said it is unknown when the trio will be back in Canada.
She said her son and friends are reluctant to leave as they feel compelled to help.
However, now that relief teams have arrived, they feel it's okay to return home.
"It is time for them to head home and I will be at the Vancouver airport Friday morning to greet them."
No doubt complete with a special, long hug, from mom and dad.