Remembrance Day 2014: What are we remembering?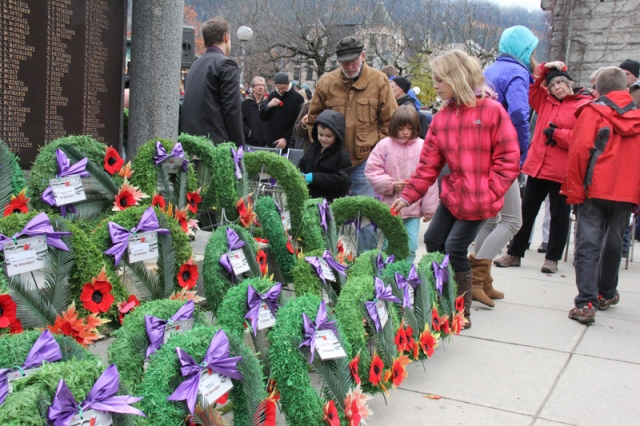 Canada is at war in Iraq. Two Canadian soldiers have been murdered in as many weeks on Canadian soil.
The question is how will this affect the Remembrance Day service this year at the Nelson cenotaph on Tuesday, November 11.
"We will carry on as normal," said the Nelson branch of the Canadian Legion's vice president Bill Andreaschuk.
The procession that begins at the Canadian Legion at 10:30 a.m. and proceeds down Stanley Street to the Cenotaph in front of city hall for an 11 a.m. service will honour the dead and shattered soldiers — past and present — who have served Canada for the past 100 years.
"They are why we have the freedoms we have today. They are the reason democracy is what it is today," said Andreaschuk, who has had family members perish in conflict.
But recent Canadian military action or the deaths of two soldiers will not play a part in the ceremony, he said. "However, we do feel sorry and compassion for those families."
Nelson City Police say they are "mindful of recent events" but do not feel there is any specific threat to Nelson or British Columbia.
"We are taking extra precautions and will use additional resources," said Nelson City Police Sgt. Dino Falcone, "and we will be working with our law enforcement partners."
Much has been made of this centennial year in which Canada entered the First World War in 1914.
Some 65,000 Canadians died in the First World War. Another 50,000 perished in the Second World War, Korean War, Afghanistan and peacekeeping missions combined.
According to some sources, another 125,000 soldiers returned home broken in mind and body.
Not even Charles Jeanes will be talking about Canada's latest action in Iraq.
 "This year I won't be targeting that particular mission," he said. He is more concerned with the bigger question: Why do we go to war?
Jeanes is the history teacher with the white poppy who has been protesting on the Remembrance Day sidelines since 2005, questioning what we should be remembering at the ceremony.
"There is an absolute unwillingness to discuss why war happens. It's all about grieving for our dead," he said.
Understandably he is not a popular person, silently holding his signs at the edge of the crowd. "But that is the only day that everyone is thinking about war. I can never reach that many people any other time of the year," he said.
"How were these Canadians protecting our freedoms by dying? A lot of our freedoms we have won here at home, fighting against our own police for the women's right to vote, or for unions.
"All I can hope is that people at the ceremony think about what I am saying later."
And to some extent, his actions are supported by the Legion, said Andreaschuk.
"Everybody has the right to protest. He (Jeanes) has always had his signs in the back and done nothing that I would call disrespectful," he said.
"They are anti-war…and we all are."
Not everyone across Canada, however, gets the day off to participate in Remembrance Day.
While November 11 is a stat holiday in BC, it is not fully recognized as a statutory holiday in Ontario, Quebec, Manitoba, or Nova Scotia.
New Democrat MP Dan Harris submitted a private member's bill, which received second reading last week to standardize Remembrance Day as a stat holiday Canada-wide.
 "We all think it is a great idea and are hoping it will make it through all stages in the House and the Senate without delay" said NDP MP Alex Atamanenko for the British Columbia Southern Interior riding.
The vote in Parliament was nearly unanimous, with only two MPs voting against it.
The standardization is important because, for Atamanennko, "I think of all those who have suffered in war and those that have died in service to their country. I hope that by reflecting on the losses, we will strive for a peaceful world. 
"War is hell." 
The bill will now be sent to a Commons committee for further discussion.