Bombers blast off at Oliver Fall Festival Field hockey tournament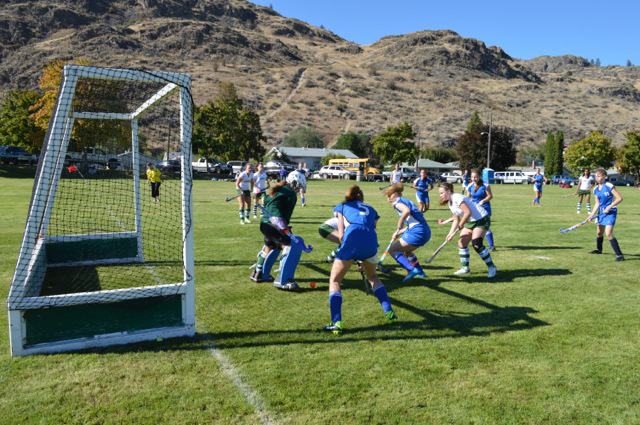 Now that the politics are out of the way, let the games begin.
The L.V. Rogers Bombers looked to be in mid-season form during the Oliver Fall Festival Field hockey tournament Saturday in the South Okanagan City.
The Bombers finished the tournament with a 3-1 record, losing its only contest to provincially ranked Kelowna Secondary School 4-0.
"It was a great outing for the LVR team," said Val Gibson, taking on one last coaching assignment after retiring in the spring.
"Chemistry is good with the mixture of the new players."
"We won 3 of 4 games . . . two shutouts coming with goalies who had never played before."
LVR dumped South Okanagan 3-0 and the school's B squad, 4-0 before defeating Mt Boucherie 5-1. The lone loss came in the final game against KSS Owls.
Goal scorers for LVR during the weekend were Hailee Gerun with four goals, Naomi Perkins and Allie Zondervan each had three while Sarah Wade and Emma Borhi scored once each.
The weekend was the rookie debut for two international students and a pair of Grade 9 players — Yu Takahashi, Svenja Rennecke, Julia Burkart and Hanna Quinn  
"All the new girls had valuable minutes," Gibson said.
"We were extremely happy with the results after such a limited number of practices due to the late start to the school year," said Gibson, who along with Bruce Walgren form the coaching team for LVR.
"The team was missing several key players who had work an soccer commitments in Nelson. With these gals, the team should be even stronger."
The Bombers travel to Castlegar Friday to meet J. Lloyd Crowe Hawks at 4 p.m. in the first West Kootenay contest of the season.