It makes you want to cry! Highway 1 accident spills cargo of pulp and wine all over road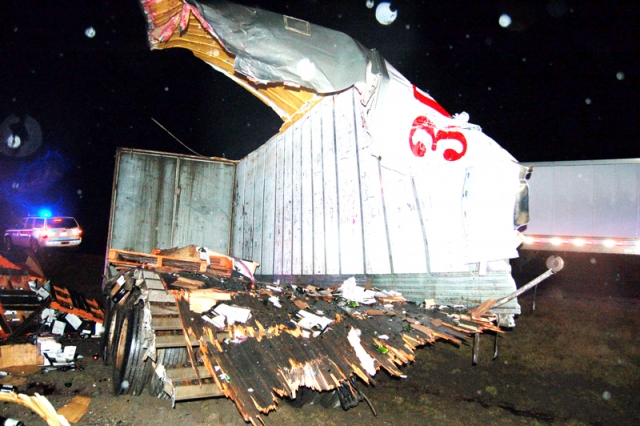 The good news is no one was hurt in the accident.
The bad news, a truck load of wine is now history.
Highway 1, two kilometers west of Hope, was shut down for more than ten hours after two semis collided Wednesday night, spilling cargos of pulp and wine all over the highway.
 
The accident happened at approximately 9 p.m. when a 30-year-old Abbotsford male was operating a Kenworth semi-trailer loaded with wine, headed eastbound on Highway 1, lost control of the vehicle and drove through the center median of the highway.
The Kenworth continued to cross over the westbound lanes getting struck broadside by a Freightliner semi-trailer loaded with pulp and driven by a 57-year-old male from Delta.
"Fortunately neither driver was injured in this collision," said Corporal Robert McDonald, spokesperson for RCMP Traffic Services.
"However, both vehicles sustained extensive damage, with one semi's trailer ripped apart, by the force of the collision. And of course there was significant damage to the cargo."
 
Highway 1 was shut down for over 10 hours to facilitate clean-up from this collision.
The highwas was opened at 7:15 a.m. Thursday.
 
The driver of the Kenworth has been charged with Driving without Due Care and Attention under the Motor Vehicle Act and both vehicles are being examined by Commercial Vehicle Inspectors in an attempt to determine their mechanical worthiness prior to the collision.