Local Group Wants to Grow Vegetables in Lakeside Greenhouses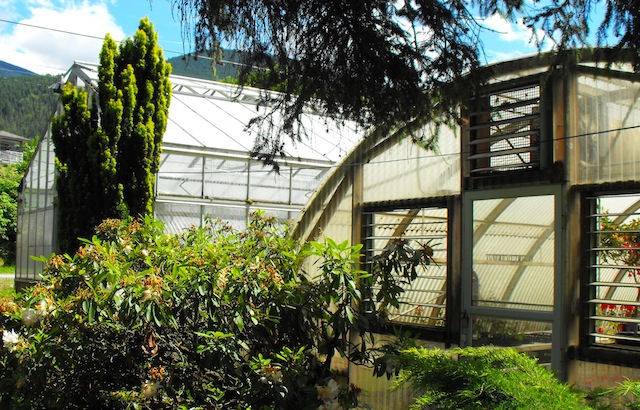 A Nelson community group wants to use the Lakeside Park greenhouses to grow vegetables during the 9-11 months of the year the structures are not being used by the city.
Local resident Lee Reid presented the Seniors Economic Environment Development (SEED) vision to council's Committee of the Whole meeting on June 25. "Making use of the city greenhouses that are fully equipped for vegetable production, the project would reinvest in the community, selling and donating produce," she said. 
Seniors mentoring youth
Many of SEED's volunteers are from Nelson's Learning in Retirement group, and the organization is pursuing partnerships with a wide variety of other groups including the Seniors Coordinating Society, Selkirk College, the Nelson Food Cupboard, Nelson Cares, the Nelson Youth Centre, and Earth Matters. Some of the vegetables would be donated to the Food Cupboard and Nelson Cares. 
"The Skills Link program at the Youth Centre, which involves skills training of youth, approached us asking us to mentor youth in the greenhouses," said Reid. This is part of a larger vision for SEED, which is to connect seniors as mentors with young people who want to learn gardening. She said there are also possibilities for connection with the schools.
Reid sees the SEED project eventually offering both hands-on learning and workshops to a variety of groups on horticulture, organic gardening, food marketing, and sustainable agriculture. She said the project would eventually employ a professional gardener who would oversee many volunteers.
"It grabs people's hearts"
Reid says she has received overwhelming support for the idea. "This seems to grab people's hearts," she said. "Seniors are sometimes isolated in the winter, and the greenhouses offer an opportunity for community collaboration, for social inclusion.
"The idea just came out of the earth. It is a bit like compost heating up internally. There have been many sources of interest and questions asked about it."
Council is on board
The SEED program came to Council seeking a letter of support for funding applications. Although no commitment was made at the June 25 meeting, council members reacted enthusiastically. "You're on the right track if you can involve seniors and develop young people's skills and feed people at the same time," said Mayor Dooley.
Dooley and Councillor Bob Adams pointed out some technical issues such as the condition of the greenhouse heating system and political ones related to volunteers working in a workplace normally covered by collective agreements with city staff.  They said these are not obstacles but things to work on in the planning stages.
An under-utilized asset
The two Lakeside greenhouses were use year-round by the city until about ten years ago when growing the flowers and plants for city parks and streets became more expensive than buying them from private greenhouses. 
In the spring and fall 2010, the Nelson Food Cupboard Society grew vegetables in one of the two greenhouses as a pilot project. The Food Cupboard says it proved "that it is possible to grow an abundant crop of salad greens in the glass greenhouse without the addition of heat or significant infrastructure upgrades." (There are two greenhouses at Lakeside, one glass, and the other plastic.)
"We are caretakers"
SEED is currently looking for funding to do a feasibility study over the summer, and its goal is to plant some seeds in September. 
"My personal enthusiasm for it," says Reid, "has to do with wanting to be generative. We are at the stage of our lives as seniors where we don't want to work our butts off as much, but we want to be productive, hands on, fit our values around having a social a conscience, stand for something that is of economic and environmental value in the community. And we are caretakers. We have a history of taking care of things. What better opportunity to take care of plants and each other?"
SEED's presentation was one of several at the Committee of the Whole meeting, a monthly format at which council hears presentations and requests from individuals and community groups. These may be scheduled onto the agenda beforehand or presenters may just arrive and be heard on the spot during an allotted time at the start of the meeting.