Rupert, Andrusiak power Chiefs past Leafs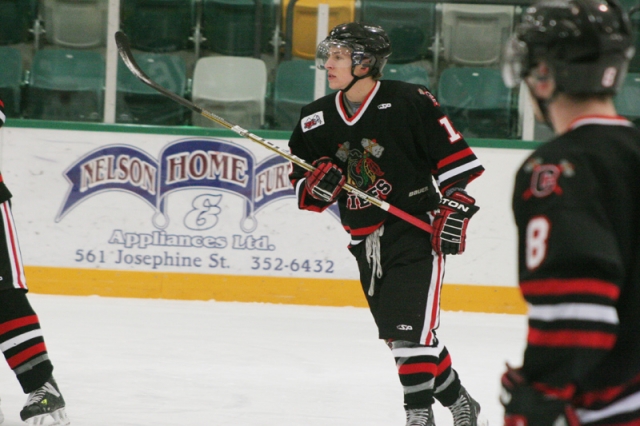 By Bruce Fuhr
The Nelson Daily Sports
Landon Andrusiak and Dane Rupert made their respective returns to the NDCC Arena memorable for all the right reasons.
The two former Nelson players had the last laugh, combining for seven points in an 8-6 Kootenay International Junior Hockey League victory over the Leafs Friday night in the Heritage City.
"It was sure a different feeling entering the arena . . . I never changed in this (visitor's dressing) room before," said Rupert, who spent most of his junior hockey career in Nelson  before having his rights dealt to Kelowna before the season started.
"I spent three years (in Nelson) before and now I'm on the opposite side of the game."
"It feels pretty weird but at the same time I was excited at the opportunity," he adds.
Andrusiak got the Chiefs started off fast, scoring on the power play three minutes into the contest.
"It was definitely a different feeling . . .  definitely funny," he said. "I had a lot of good memories here and a warm feeling coming back to Nelson."
But Nelson rebounded to grab a 2-1 lead before the period ended.
Kelowna, second in the Okanagan Division of the KIJHL behind league-leading Osoyoos Coyotes, then used a five-goal second period to turn a close game around into their favour.
Chiefs Colton DeFrias, combining with line mates Andrusiak and Jordan Wood, for a pair of goals got the visitors going.
Kyle Clerke, with an assist from Rupert, increased the lead to 4-2 before Joel Stewart scored his first of two in the period.
Jordan Salahor restored the two-goal advantage for Kelowna. Then in the final 24 seconds of the game, momentum changed in a blink of an eye.
Stewart scored to shave the lead to 5-4. However, Kelowna got Big "M" back when DeFrias completed his hat trick by scoring with 12 seconds remaining in the period.
In the third, the teams traded goals with Rupert collecting his against his former team.
Leaf captain Taylor O'Neil, Dustin Johnson, Colton Schell, finishing with three points, and Cody Abbey also scored for Nelson.
Stewart finished the game with four points.
Tanner Clarkson completed the Kelowna scoring.
The Leafs get right back at it Saturday with a key in Murdoch Division battle against Beaver Valley Nitehawks. Game time is 7 p.m.
OVERTIME: Leaf defenceman Blake Arcuri was back on the shelf for Friday, re-injuring his shoulder Thursday in Grand Forks. . . .Nelson's Gavin Currie, also nursing a shoulder injury, will start skating Monday. . . .Nelson goalie Darren Hogg is making a surprising recovery from a knee injury and could be back in the lineup this season after it was first thought the Leaf netminder could be gone for the season. . . .Trail midget goalie Justin Mandoli has been backing up Marcus Beesley. . . .The Nelson handout fridge-magnet schedule shows the Leafs playing Creston in a two-game series Feb. 11-12 in Whitehorse. That trip has been postponed indefinitely. The teams will now play a home-and-home series to complete the season. The KIJHL was bumped by a WHL game Feb. 12 between Vancouver Giants and Kamloops Blazers.

sports@thenelsondaily.com