Ice cools off Greater Vancouver Canadians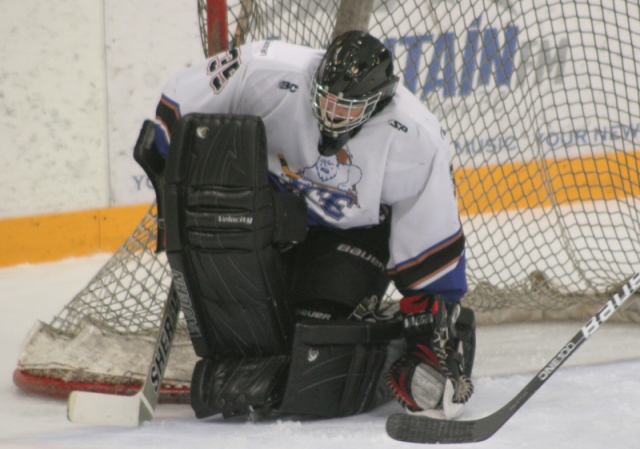 By Bruce Fuhr,
The Nelson Daily Sports

If this keeps up the movers and shakers at B.C. Hockey headquarters will want to break up the Kootenay Ice.
The Ice shocked one of the top teams in the entire B.C. Major Midget Hockey League, third-place Greater Vancouver Canadians, stealing three of four points during a weekend series at the NDCC Arena.
Jesse Knowler of Castlegar scored twice to lead Kootenay to a surprising 5-2 victory over the Greater Vancouver Saturday.
Sunday, the Ice came close to bringing out the brooms as the teams played to a 3-3 tie.
Greater Vancouver needed a third period marker by Garrett Forster to grab the point.
"This team plays like that every weekend but we always seem to find a way to lose," Wheeldon told The Nelson Daily. "This weekend we found a way to win."
Knowler gave the Ice a 2-0 lead after one period. Greater Vancouver rallied for a pair of second period goals before Dryden Hunt of Nelson, who finished the weekend with five points, scored the eventual game winner with a minute to play in the middle stanza.
With Kootenay clinging to the one-goal lead, Luke Bertolucci of Trail snapped a wrist shot past Brodie Burdney in the Greater Vancouver net with just over three minutes left in the game to secure the win.
Darren Medeiros of Castlegar added an empty net goal to complete the scoring. Christian Pickles of Langley faced 29 shots to register the win in goal.
Sunday, Jarrod Schamerhorn of Kelowna faced 46 shots to power the Ice to the point.
Kootenay held period leads of 2-0 and led 3-2 in the third before the Canadians scored to tie the contest. Cranbrook's Derek Georgopolus scored twice and Hunt added a single to lead the Ice.
"Sunday our goalie (Jarrod Schamerhorn) played outstanding," Wheeldon said, impressed by the improved play of the Ice.
Despite having fewer players to choose from to select a team from the Kootenays, Wheeldon would not want to change spots with any of the teams in the league.
"I'll put this team up against any other team in the league," he said. "Despite our record, they work hard every game."
Kootenay still remains near the bottom of the 11-team league in 10th spot with a record of 3-13-4.
Kootenay, idle this weekend, is back on the ice Saturday, December 11 at 5 p.m. in Castlegar when the team faces the North Island Silvertips. The second game of the series goes Sunday also in Castlegar at 10 a.m.
ICE CHIPS: Luke Bertolucci is having a season for the Ice, sitting 12th overall in BCMML scoring. The Trail Minor Hockey star is only three points out of fifth spot. . . .Kootenay has been playing most of the season with only five defencemen after Will Lightfoot of Cranbrook injured his leg.
sports@thenelsondaily.com