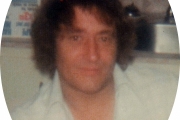 Born in Vernon, B.C. on February 24th, 1933, Buddy passed away
at Kootenay Lake General Hospital on May 7th, 2012
at the age of 79. He is survived by three daughters,
Cindy (Tony) Sexsmith, Shannon (Duane) Redekop,
Tamara Sinclair and one son Grant (Vanessa) Mayer. He
is also survived by his sister Connie (Mike) Zeznik.
He will be mourned by 9 grandchildren and numerous
nieces and nephews as well as former soulmates Linda
and Audrey. Bud was pre-deceased by his parents
William (Shorty) and Ethel Mayer and son Sean.
Up until his retirement Buddy worked as a rock driller and
blaster and was involved in numerous road and bridge
construction projects throughout BC and the
Northwest Territories. ( "There was nothing that I couldn't
make disappear!") He will be fondly remembered
by all who knew him and every one of us has at least
one "Buddy Tale" (probably many!) to recollect and recall
during a life of awe inspiring actions and activity.
It is virtually impossible for anyone else but Bud to have
crammed in so much in 79 years and to have just "fallen
asleep" so peacefully on Monday afternoon!
A celebration of Buddy's life will be held on Saturday,
May 19th, 2012 at 2:30 PM at the Nelson Branch #51
of the Royal Canadian Legion. All who knew him are
invited to attend and bid farewell to our friend in a
manner that he would approve of.
"I have put more on miles in reverse than most folks ever did in full, fast forward!"
Online condolences may be expressed at www.thompsonfs.ca
Funeral arrangements are under the direction of Thompson Funeral Service Ltd.