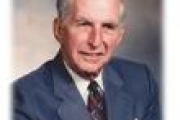 After a lengthy illness Fred Whiteley passed away peacefully at Kootenay Lake Hospital on December 23, 2010 at the age of 89 years.
Fred was born November 30th, 1921 in Kitchener, Ontario to Maude & Walter Whiteley. As a very young boy the family moved to Montreal where Fred received his schooling.
During these years Fred was very active in sports especially baseball and hockey. Upon graduation from high school Fred joined the RCAF where he served from October 1939 to July 1945 retiring as Flight Lieutenant.
Back in Canada Fred attended Sir George Williams University, and McGill University graduating with Bachelor of Science in Metallurgy. Fred worked for Canadian Ingersoll Rand and transfer out to Kimberley in the 1950's.
He met his future wife Edna who also worked or Canadian Ingersoll Rand in Nelson and were married the following year April 1953. To remain in Nelson, Fred left Ingersoll Rand and opened his own business (Fred Whiteley Sport Shop) which he ran until he sold the business in 1969.
Following this, Fred worked as Recreational Director for the City of Nelson, Assistant Publisher for the Nelson Daily News and finished his working career with Selkirk College in 1992.
Fred gave generously of his time serving a number of organizations. Fred was a 52 year member of the Nelson Gyros Club serving twice as president and numerous other positions. He also enjoyed his golf, serving on the executive in a number of capacities with the Nelson Golf & Country Club now known as Granite Pointe.
He was a devoted member of the Nelson United Church contributing on many committees over many years.
Fred was predeceased by his parents, Maude & Walter; and Brothers Ron, Jack and his first wife Mary. Fred is survived by his wife, Edna of 57 years, daughter Susan (John) of High River AB, sons Peter of Langley, Ken (Lorna) of Richmond, BC, and Keith (Terry) of Surrey. Five grandchildren; Jennifer (Paul) of Vancouver, BC, Dana (Greg) of Calgary, AB, Vanessa, Geoffrey, and Mark of Surrey. Great granddaughters; Samantha & Sienna.
His sister Shirley (Don) of Nelson, sister-in-law Ellie and many nieces and nephews. Fred will be missed his many friends. The family are grateful for the care Fred received by the Doctors and Nurses of Kootenay Lake Hospital. A memorial service and Celebration of Fred's life will be announced at a later date.
As an expression of sympathy family and friends may make a donation to Charity of Choice.