Welwood, Ronald Joseph Adrian
(November 30th, 2021)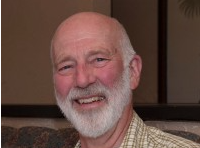 Ronald Joseph Adrian Welwood was born in Penticton in 1940, raised in Port Alberni, but leaves his heart and legacy in his adopted Home of Nelson, BC.
Ron was the eldest child of Roy and Alice (Bonthoux) Welwood of Port Alberni and Chilliwack. He is survived and deeply missed by his 105-year-old mother (that's right, 105 years!), brother Kenneth (Pamela), and two Nelson-born sons, Gregory (Tracy Mah), and Michael "Ed" (Karen), and his precious granddaughter, Meela.
Ron shared his enormous interest and knowledge of Kootenaiana (a term he created) with his wife of 55 years, Frances (nee Clay). Together they "discovered" Nelson in August of 1969 when Ron left the National Library of Canada in Ottawa to become the Librarian of Notre Dame University of Nelson. Despite the demise of NDU, Ron remained on Campus as Librarian at David Thompson University Centre, then as Librarian at Selkirk College Castlegar until his retirement in 2000.
His enthusiasm for Kootenay life and culture soon identified Ron as a Kootenay voice within the 100-year-old B. C. Historical Federation (of which he served two terms as Chairman). Ron assembled the Kootenaiana Collection of volumes and documents that is the basis of West Kootenay research and history.
He received many awards for his historical writing and was co-founder of an eclectic band of history buffs – Kootenay History Interest Group. 'The Friends of B.C. Archives', 'Communities in Bloom', 'Heritage Walking, Motoring and Cemetery Tour' Brochures, Archivist for the Roman Catholic Archives of Nelson, singing basso with the 'Heritage Harmonies Chorus', skiing at Whitewater, and digging in his mountain-side garden further occupied his "Kootenay Time".
In January 2019, Ron and Frances were granted a Special Citation by the City of Nelson in recognition of their outstanding contributions to the preservation and promotion of the City's cultural heritage.
Donations in Ron's memory might be given to the Nelson Osprey Foundation or Touchstones Nelson.
"A young man's dreams fulfilled with skill, love, loyalty, and hope."
A funeral and celebration of Ron's life and legacy will be held at a future time