Vincent, Patricia Jean
(September 6th, 2023)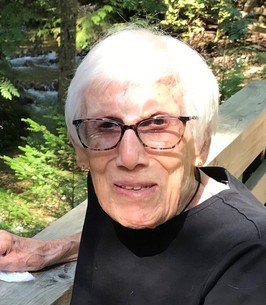 Pat was born in Winnipeg MB on March 17, 1927, and died September 6, 2023 at the age of 96+ in Nelson at Kootenay Lake Hospital.
Pat loved birding and politics and was a lifelong learner. She held a master's degree in geology and was one of the first women to work in the RCMP crime lab using X-ray diffraction to examine crime scene evidence – she testified in many trials throughout Canada and that may have started her love of travelling – that and working in Africa for a year in 1950.  She enjoyed many trips – 16 to be exact, with "Elder Hostel" and to the Hawaiian islands with her husband Jim Vincent and sister Jacqui Hayward who both unfortunately pre-deceased her.
Pat enjoyed golf with Jim and her friend Sheila McCormack and x-country skiing when she was still able. For the past 6 years Pat spent a lot of time with her daughter Barb and her partner Norm Jelfs. They had weekly adventures in the Kootenays – favourites included Gerard in the Lardeau Valley, the Creston wetlands, the old Rossland Cascade Highway and the Pend Oreille to name but a few.
Pat cherished her friendships with her neighbours on MacGregor Rd at 9 mile on the north shore and a few special people who really meant a-lot to her and gave her words of encouragement and love during her final hours.
Pat leaves behind her daughter Barb and partner Norm and nieces Trish, Cath and Sue and nephew Mike Hayward.
There will be no service at Pats request rather her ashes and some of her sister Jacqui's ashes will be scattered near the Lardeau River this fall when the Kokanee are running and the eagles are on high.
Extreme appreciation to Dr. Kyle Merritt for his compassion and dedication to Pats well being right to the end.