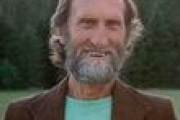 With deepest sorrow we announce the peaceful passing of Nicolas Toma, on January the 25, 2011.
Nicolas was born in 1938 and grew up in Edmonton, Alberta. He met his wife to be, Claudia, at a yoga class in Toronto, in June 1971.
A number of people were assembled for the class but the instructor never did show up. Gradually everyone else left, while the two of them began chatting and getting acquainted. They have been together ever since and married seven weeks later on August 10.
The young couple came to the Slocan Valley in 1977, drawn to the community surrounding a newly formed meditation circle of Self-Realization Fellowship. Nicolas was a life long Kriyaban disciple of Paramahansa Yogananda.
Nick loved carpentry. When Nicolas and Claudia first set eyes on a 1900 era derelict house in Slocan City, vacant and boarded up for 15 years, he saw the potential for a great restoration project and a wonderful place to settle and enjoy life together.
He lived by his wits, without much formal education, and enthusiastically learned all the skills needed for the tasks and challenges of building renovation. Cycling was his greatest passion. He participated in biathlons, team triathlons, and local bike races. Nicolas trained regularly on local roadways for competitive racing. Always committed to physical fitness, he maintained a routine of weight training and indoor cycle training programs in the off-seasons through the years. He also liked to ride, hike, and ski on the Slocan Valley Rail trail, and paddle on the river.
Nicolas succumbed to Lewy Body Dementia. He is survived by his wife Claudia of Slocan, six brothers and sisters, and many nieces and nephews. His eldest sister Irene resides in Dryden, Ontario. John, Terry, Shirley, Ron and their families are in the Edmonton area, and his sister Sandy and family live in Toronto.
Heartfelt thanks are extended to caregivers Lynda Moore and Ann Weir, and deep appreciation to all the wonderful staff at the Pavilion in New Denver, for their sincere kindness and support. Nicolas is remembered with great love and divine friendship always.
A celebration of his life will be held with family and friends in the springtime.
"When a dear one dies, instead of grieving unreasonably, realize that he has gone on to a higher plane at the will of God, and that God knows what is best for him. Rejoice that he is free. Pray that your love and goodwill be messengers of encouragement to him on his forward path" Paramahansa Yogananda request.