Stainton, Mabel Margaret
(February 28th, 2018)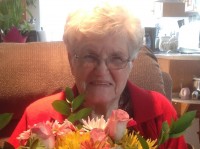 Mabel Margaret Stainton
March 30, 1925 – February 19, 2018
Today our beloved Mom, Grandma, Great-Grandma, Aunt Mabel has passed peacefully on to her next great adventure. All her life Mabel was keen to try new things and to be a part of everything that was going on. She loved to have a good conversation with a new friend, to explore another part of her favorite Kootenays, or to play a game of crib with anyone brave enough to take her on.
Mabel was born in the old Nelson General Hospital, and was brought up in Ainsworth. She never ventured far from home for any length of time, spending close to 60 years at the family homestead in Balfour. In 2007, she retired to Nelson to live with her daughter Leah.
Mabel was a lifelong volunteer. She and Lionel spent countless hours building and maintaining the first community water system in Balfour, and she freely gave of her time for many years to support and work for the Balfour Anglican Church. More recently, she belonged to the Senior Citizens Association in Nelson, where she made yet more good friends , and very much enjoyed her Wednesday Crib sessions.
When she was able, Mabel enjoyed some wonderful trips to Sweden, Hawaii, Scotland and Ireland. She never said no to a weekend in Cranbrook, Kamloops or Vancouver Island to visit beloved family and/or friends.
Mabel was predeceased by her parents, Mabel and Tim Lane; her brothers Bill and Bunt; her sister Isabel; her beloved husband Lionel and infant daughter Linda; son-in-law Paul; and daughter-in-law Micheline.
Mom/Grandma will forever live in the hearts of her children Leah Gray (Ian), Kathy Hagman(John) and Tim Stainton(Jayne). She will be sadly missed by her grandchildren, Cammy(Trev), Jennifer(Shane), Abbey, Susan, Wendy(Brian), Brant (Margaret), Michele(Ian), Misty(Paul), Chelsey(Jim); and great-grandchildren Tara(Ken), Andrea(Bryan), Miranda, Austin, Tianna, Sandor, Poppy, Summit, Paul, Bruce, Maddie and Sophie.
Mom had many good friends, young and old, and favorite nieces and nephews, all of whom loved and will miss her.
God saw you getting tired
And the cure was not to be,
So God wrapped you in loving arms,
And whispered "Come With Me"
Sleep on in Peace and Love Beloved Mom
You are invited to leave a personal message of condolence.