Sinclair, Nancy
(March 29th, 2023)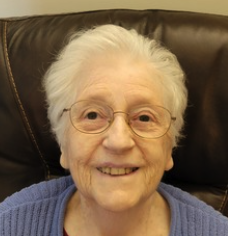 Born in Montreal, Quebec to Teresa Catazzone, sister to Joseph and Connie. Nancy and her siblings were raised by her mother and beloved Nonni. 
Nancy met her future husband in 1958 while he was in the Navy, marrying in 1959. The marriage lasted 62 years until Hugh's death in 2021. Nancy and Hugh had four children: Elaine, Laurie, Paul and Hugh. Through a trick of fate, the first initials of their children spell HELP!
Nancy had a passion for cooking. Her interest in cooking took root while she and Hugh were living in Churchill Manitoba, his first married shore posting in the Navy. From those humble beginnings Nancy became an accomplished cook. She learned to make fantastic food worthy of the finest table. Her bread was to die for (a favorite expression of her husband Hugh), and she rarely had a failure. There was a time she used salt instead of sugar in the pancakes; a shock to those who got that salty treat. Nancy's life was defined by recipes. She had an amazing collection of handwritten recipes in her distinctive cursive writing. Each recipe carefully annotated with additions and modifications to make it perfect. Cooking wasn't the only thing Nancy enjoyed. She also was an accomplished watercolor painter, usually painting small pictures on whatever was handy at the time. The house was filled with her artwork. She loved to paint flowers and garden items, occasionally dabbling in fish and other subject matter. Her creations adorn many family members' fridges and walls. She certainly knew how to keep herself busy with all her hobbies.
Nancy was best buddies with her granddaughter Ember. They were like two peas in a pod, hanging out together, chatting up a storm. She was also close to her children and grandchildren. She always made time for her loved ones, taking every opportunity to pass on her cooking knowledge to all those who showed an interest in learning to cook. Nancy was determined to make something special for everyone coming for a visit, and she was sure to load them down with leftovers or other goodies on their way out the door. Boston Cream Pie for Ralph's birthday, cookies for Kohl, strawberry ice cream for Catalina, Sword and Anchor bread for everyone, fruitcake, homemade sausage, lavender biscotti, the list goes on…
Nancy met challenges head-on. From 1966 until the 2000's, Nancy supported her husband Hugh during multiple bouts with cancer, always there to rally him on. She always took time to cook wholesome meals, clean the house, and generally kept the ship sailing when the seas were rough. Even though the grim reaper was always lurking over their shoulders, Hugh and Nancy found a way to have a full life. They were world travellers while in good health. They toured the four corners of the globe for more than twenty-five years, gone for months at a time. Nancy and Hugh traveled on the cheap, living like the locals wherever they had settled for the winter months. Mexico, Thailand, Greece, and a whirlwind tour of Europe and Asia. What a life!
Nancy's eyesight became poor several years ago, leaving her dependent on her husband Hugh for most things. Hugh's passing made her life unbearably difficult. Nancy's health declined severely, requiring placement in long term care. She suffered terribly with dementia prior to her death; her days were a constant struggle of lost memories and panic. Nancy's caregivers at the Victorian Community Long Term Care in Kaslo BC gave her a second chance at life after she became a resident. Nancy was always thankful for the help she received, and the excellent care provided right to the end. She will be remembered for saying "Thank you darling", and for telling everyone "My Italian name is Innocenza Maria!" with her Italian flare. Nancy's daughter Laurie worked at the facility, playing a significant role in her life in long term care. Laurie was around all the time, guiding her and helping with the minutia of life. Nancy's life slowly faded away as the dementia took her memories and emotions.
Released from her pain, Nancy is reunited with her husband Hugh and all those she loved. She has begun her next journey. Never stopping for long, Nancy is out there somewhere, making memories (and probably some bread).