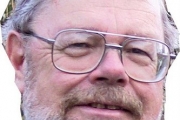 William Bruce Scott
BRUCE
The day is soft and warm. A bit of a breeze brings the scent of lilac through my kitchen window. Returning swallow families rush back and forth in furious argument over housing, and a single humming bird has come to the window to remind me to fill the feeder.
I'll sit on the deck with my coffee, but there's only one mug and an empty chair beside me.
Bruce, my partner, my companion, my husband died at the beginning of May in Kelowna Hospital.
Even though his passing was quite sudden, our children: Marguerite Odendahl (Scott) of Prince George, BC., David Scott from Sidney BC. and Tereus Scott from Victoria were all able to visit with their dad which meant that his illness and his departure were somewhat easier for him and for the rest of us.
My sister, Shirleen Smith, was here as well with her comfort, her love and her support.
Bruce's elder sister, Donelda Leale (Scott) could not come from her home in Nipawin, Saskatchewan, but the blessing of her thoughts and prayers were with us, as were the memories and laughter shared with Bruce's cousin, childhood friend and playmate, Mari Etta McEachern of Saskatoon. Duncan Scott – story teller, fiddle player, brother and friend died in September, 2001.
It was a chilly day in November, 1938, when Bruce's mother, Gertie Scott and his dad, Bill Scott brought Baby Bruce home to his brother and sister. But it was not long before Child Bruce was disassembling clocks and sending messages on a wire strung from his Nipawin bedroom window to his neighbour next door, in fact, from a very early age, Bruce knew where he would lead his future: electronics was his only plan, and piling hay after school and working during the summer on the rail crew only emphasized his decision.
It's quite a trek from Saskatchewan to British Columbia and Bruce did not take a direct route.
Electronics training and experience took him to North Bay, Ontario, and even further north to Federal Electric at Cambridge Bay in the Yukon where he worked underground at the SAGE computer system to monitor the DEW line (the distant early warning system managed jointly by both Canada and the United States in the late 1950s.)
He returned to Ontario during a particularly chilly winter, and it was then that the moan of a reluctant starter and a crisp, frozen instrument panel confirmed his absolute determination to move to BC.
His electronics training was topped up at IBM near Poughkeepsie, New York and Bruce came west to IBM in Vancouver to be the Customer Engineer for the newly opened Genie Centre at the Bank of Montreal on Broadway, and that is where we met.
Although we were together for the rest of his life, we did not stand still. We shifted Home Base from Vancouver to Shalalth on Seton Lake in the BC Interior, and after a decade or so, slid back south to Victoria for a few years, then up-island to Ladysmith, and finally to what became our home here in Riondel. In between there were a few Mexican holidays, a jaunt across Canada and south again along the Atlantic coast for an extended, warm, Mexican winter.
I suspect the warm winter feeling became rooted early in Bruce's psyche coaxing him away from the cold and guiding us into Kootenay country to discover home here in Riondel.  
A memorial will be held at 4:00 pm, Saturday, May 30, 2015 at Dutch Harbour on the East Shore of Kootenay Lake just north of Riondel.
Anyone wanting to make a donation can do so in the name of William Bruce Scott to The Rotary Cancer Lodge in Kelowna, or Riondel Community Church in Riondel, BC V0B 2B0.
Born November 15, 1938
Nipawin, Saskatchewan
Died May 3, 2015
Kelowna, BC
 
MEMORIAL NOTICE:
Scott, William Bruce
William Bruce Scott, born November 15, 1938, passed away on a sunny Sunday morning, May 3, 2015, at the Kelowna Hospital.
He was surrounded with all your kind thoughts and prayers.
A memorial is to be held for William Bruce Scott on Saturday, May 30, 2015, at Dutch Harbour.
For more information contact Wendy Scott at 250-225-3381 or Bonnie at 250-225-3509.
Anyone wanting to make a donation can do so in the name of William Bruce Scott to The Rotary Cancer Lodge in Kelowna.
Life ends – Love goes on