Robinson, Robert E. (Bob)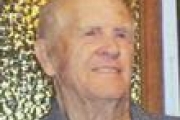 Robert E (Bob) Robinson
November 30, 1919 – February 27, 2011
It is with great sadness that the family of Bob Robinson announces his passing. Bob passed away peacefully Feb 27, 2011 at Mountain Lakes Seniors Community.
He was born and grew up in Golden, B.C. After finishing school he worked on the family trap line until he found his calling in the Forest Service where he started out as a Ranger Assistant in1938 on the Big Bend Highway.
During World War II he enlisted in the Artillery before transferring to the Air Force, becoming a pilot and then an instructor. He was later sent to England where he met Miranda, his future bride. When the war ended he returned to Canada and continued working for the Forest Service.
Shortly after, Miranda joined him in Canada and they were married at Golden in 1947. During his years of service to the Province he was stationed at Yahk, Canal Flats, Creston (where he became a Ranger), Lardeau, New Denver and Nelson where he retired in 1980.
After retiring, he enjoyed traveling, camping and fishing trips with friends and family. He was always creating something he "needed" and many benefited from his special fishing lure, the "Bob-O-Link" He had been a member of the Slocan Masonic Lodge #29 for 60 years.
He is survived by his brother Bud (Clare) Robinson of Kamloops, daughter Christine Martell of Penticton and his son Jim (Ellen) Robinson of Nelson. Grandchildren, Sandra (Darren) Staples of Coquitlam, Steven (Liz) Martell of Vancouver, Jill Wellbelove of Penticton, Ashlee Robinson of Kelowna and Adam Robinson of Nelson.
Great Grandchildren Niki and Tyler Staples, Lucie Martell, George and Charlie Wellbelove and many nieces and nephews. He was predeceased by his wife Miranda in 1988, his parents, three brothers, two sisters and special friend Jean Carmichael.
At his request there will be no funeral.
In lieu of flowers donations may be made to the Multiple Sclerosis Society or the Kootenay Lake Hospital Foundation.
The family would like to thank Doctors Milde and Janz for their excellent care, the staff of Lake View Village and Mountain Lakes Seniors Community for their care and kindness and special thanks to Joe Tencza for those memorable fishing trips that you took dad on.