ROBERTS, Nancy Anabel (nee Idiens)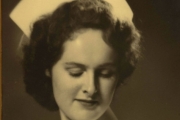 ROBERTS, Nancy Anabel (nee Idiens)
May 16, 1930 – November 1, 2016
Nancy passed away peacefully at Royal Jubilee Hospital on November 1, 2016.  It was there, as a young woman in 1952, she graduated as an RN after moving from her birthplace of Nelson BC. 
The second daughter of Albert and Jean Idiens, Nancy spent a wonderful childhood with sister Margaret "Molly" Jean, who predeceased her on July 9, 2016. 
Following many months traveling throughout Europe and nursing in England, in the 1950's Nancy worked in the emergency ward of RJH before taking a position as the Public Health Nurse for the Dawson Creek region, where she met and later married her first husband Gerald Sidney Kaplan. 
She continued nursing and working as a dental hygienist while raising her family in Calgary, later moving to Victoria with Gerald who passed away in 1984. 
On February 22, 1992 Nancy married Richard Roberts, also a native of Nelson, who predeceased her on July 17, 2016.  Together for 24 years, they traveled extensively and delighted in gatherings with their blended family of children and grandchildren. 
Nancy's many years caring for sick and dying babies in the Intensive Care Nursery, loss of her sister and two husbands, the premature death of her only daughter Margaret at age 38, along with personal health issues such as lymphoma and macular degeneration were some of the traumas Nancy endured with amazing grace, never wavering from her brightly positive outlook on life. 
Nancy is survived by her sons John (Heather) and Robert Kaplan, son-in-law Mark Hallam (Bev Perry), grandchildren Maery and Gordon Hallam and Luna Martin, grandchildren Graham and Nelson Kaplan, niece Stephanie Maricevic (Jeff) and children Danica and Alera Selder, stepdaughters Janis Roberts and Nancy Williams and step grandchildren Sophie Roberts, Robin and Gwen Williams. 
We will always remember Nancy's twinkling blue eyes, her ever-present smile, her warmth, her generous and giving nature, and above all her strength and resilience.