Richards, John Charles "Jack"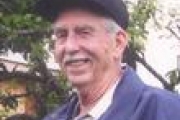 John Charles "Jack" Richards
December 24, 1921 – October 10, 2015 "A long and happy life"
With sadness and love, we announce that Jack passed away peacefully on October 10, 2015. Jack was born on December 24th, 1921 in the Old Mill House in Tappen, BC. Later his family moved to a 40 acre farm where Jack and his three sisters, Flo, Iris and Bobbie grew up.   Jack finished Grade 10 and in 1940 signed up with the Airforce.  He was  enlisted  until September 1945, when he returned to  Tappen to help on the farm and take over his ailing father's carpentry business. Although he was very busy, he still found time to play softball, badminton, and ski. And in 1950, it was on the badminton courts in Salmon Arm that he met beautiful Margaret. They courted and then married in 1952. Jack came to Nelson to look at some work prospects and fell in love with the lovely little town,  making  it their home.  He worked with TH Waters, doing carpentry, for about 8 years. Then he started his own business with his friend Blacky Blackwell, and called it BlackJack Construction. In 1954 Jack built a house on Ridgewood Rd and son Greig was born that year. Then daughter Shelley followed in 1956.
Jack and Marg enjoyed badminton, bowling, square dancing, and socializing with all their wonderful neighbours and friends. Through the years, Jack built many houses in the area and he has left a strong legacy of quality workmanship,  that he passed on to his son Greig. Jack retired in 1986 and they enjoyed trips to England, Hawaii, California, Arizona and Alaska.
Predeceased by his loving wife, Margaret, whom he has missed dearly since 2005. Also predeceased by his parents Wallace and Beatrice Richards, sisters Flo , Iris and Bobbie. Survived by son Greig (Cathy), daughter Shelley, grandchildren Bobbie, Michael, Rick and Cody, and great grandchildren Coleton, Merissa, Hayden and Hunter and many nieces and nephews.  "Gramps" was such a big part of all our lives, and will be so very missed. Special THANK YOU to the wonderful staff  at Mountain Lake Assisted Living and Talarico Place. Also much gratitude to Dr Lee Mackay for treating Dad with such respect and helping him to live life to the fullest.
A Celebration of Life for this true gentleman was held on October 23, 2015 at the Legion Hall in Nelson.