Richard (n​​ée Adair), Wendy Ann
(September 27th, 2021)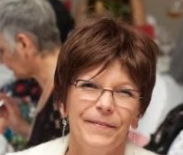 We are heartbroken to announce the passing of Wendy Ann Richard (n​​ée Adair), beloved wife, mother, and grandmother. Wendy passed away peacefully at home at the age of 65 on September 11th, 2021, days after celebrating her 39th wedding anniversary. She fought cancer for the better part of a decade, outlasting every doctor's prediction in order to spend every possible moment getting to know her grandchildren.
Wendy was born on June 4, 1956, in Burnaby, BC, moving throughout Western Canada for much of her childhood and adolescence. She met the love of her life, Normand, at the age of 23 when they were both working in Fort St. John and married in 1982. In 1992, they settled in Nelson, where Wendy had always dreamed of returning, with their two daughters. Wendy set to building a home and a presence in the community. She was known most prominently as a secondary mother and foster mother to teenagers throughout the area. She had an affinity for accepting people as they are, loving unconditionally, and fiercely defending those she loved.
She made many meaningful connections through her work at the Kootenay Bakery, her volunteer work in the Nelson Women's Centre, and as a herbalist with Child of the Moon.
Above all, Wendy put family first, defining her family through love and blood. She is survived by her husband and soulmate, Normand, her two daughters, Norann (Michael) and Nioka, and her cherished grandchildren, Macy, Henry, and Audrey. She is also survived by her sister, Sandra (Terry), and her soul sisters, Shona (Herb) and Yvonne (Kevin). She was predeceased by her father, Thomas, and her mother, Davina.
Wendy carried a special spark and a jingle everywhere she went.  Continue to watch for signs that she's still with us, in the first purple flower of the season, a rainbow shining through a crystal in the sun, in the sound of her grandchildren laughing, and when you see a little magic that can't quite be explained.
The family would like to express gratitude to the nursing staff on the chemo floor at the Kootenay Lake Hospital, the incomparable Dr. Malpass, her home care team, the dear friends who delivered meals, and to Shona and Ivy for their invaluable support in her final days.
In lieu of flowers, we welcome donations to dedicate a bench in her honour or to the Terry Fox Foundation.