Renzie, Dean
(October 3rd, 2023)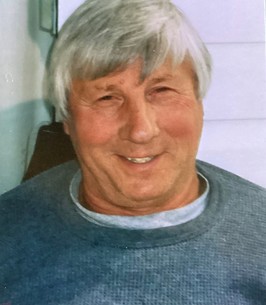 On Tuesday October 3rd, Dean Renzie passed away peacefully at Jubilee Manor, with his family by his side.
Dean was born in Kitchener B.C. to Alice (Aleksandra) and John Renzie.
When Dean was four his father accepted a job transfer and moved the family to their home in Procter B.C.
John worked for C.P.R. while Alice raised three children and ran the farm.
Dean attended school in Procter until Grade ten, than completed his Grade twelve at L.V.R..
Dean was a good student, known for his athletic abilities.
After graduating Dean took a job working for Tommy (Tomio) Baba of Kaslo, where he worked as a carpenters helper.
While living in Kaslo he became part owner of Kaslo Building Supplies.
It was there he first started operating heavy duty machinery.
Dean decided that working with machinery was what he wanted to do for a living, so he left the building business.
He traded the 1966 Fordson Major machine he owned for a new one.
A 440 John Deere skidder with a backhoe, the first machine of its kind to have these modifications.
Deans career path was set, he spent the rest of his working years helping to build and repair power lines.
He was a strong union advocate, a proud member of the I.B.E.W., Nelson branch, local 1003.
Dean had a reputation for having a good work ethic and having a knack for operating various types of machines in tough terrain.
He always enjoyed working on power lines, a career that allowed him to be out in nature.
Dean liked that he was able to work with a good team of cohorts, having a few laughs while putting in and repaired power line all over B.C..
In the mid 1970's Dean became a silent partner in the Savoy Inn with Garry and Alan Kilpatrick.
It was there he met his wife Jessie.
They were married in 1976 and purchased the family farm in 1977. Together they built their home, doing most of the construction themselves, while they raised their two sons, Don and Chad.
Don and Chad growing up learned many skills from their dad on how to build and repair things, take care of animals and grow a good garden.
Dean enjoyed being outdoors and often took the boys and their motor bikes onto backroads so they could explore.
He also took his boys on many fishing and hunting trips, often hiking into the backcountry and camping.
They especially enjoyed their annual trip to Chetwynd where they would hunt with their friend Clint Murfitt.
Dean found it hard when his health failed and he needed to be in care, not at home in Procter where he wanted to be.
The family is grateful to Dr. Trevor Janz and all the staff at both Mountain Lake and Jubilee Manor for the care and kindness shown Dean.
Kindness makes the world a better place.
Dean leaves behind his wife Jessie.
Son Don (Trish, Braydon, stepchildren Will, Tayler and Jaxon).
Son Chad (Amanda, Kara, Alex and Cole).
Sister Rose(Lana and family).
Sister-in-law Iris ( Sandra and family, David and family).
A celebration of life with take place at a later date.