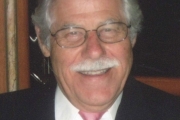 It is with sadness and relief that we announce the passing of Glenn Warren Purdy, loving husband, father and all around good guy!
His loving wife Mary-Ann, children Warren, Cameron, and Jacqueline will have many cherished memories of him.
His humor, laughter and consistent giving nature will be always remembered.
A very sincere thank you to the caregivers and kitchen staff at Mountain Lake for their consistent, gentle and loving care as they helped the family through this very difficult time.
Glenn is pre-deceased by Patricia, Lorraine and his son Darcy
Services were held on May 13, 2012 at Saint John's Lutheran Church.
As an expression of sympathy, friends and family may wish to make a donation to the Alzheimer's Society that supported Glenn and the family.
Arrangements are under the direction of Thompson Funeral Service Ltd.
Condolences may be expressed online at www.thompsonfs.ca