Pitts, MC, CD, Major General (Ret'd) Herb
(October 8th, 2018)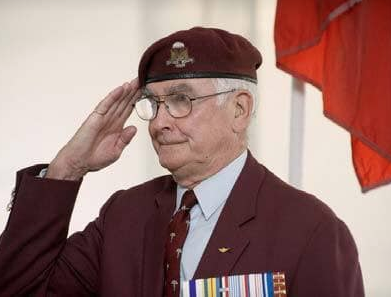 Major General (Ret'd) Herb Pitts, MC, CD
It is with a heavy heart that we regretfully must share some very sad news.
Major General (Ret'd) Herb Pitts, MC, CD, passed away on September 27th, 2018.
He was born in 1929 in Nelson, BC and graduated from the Royal Military College in June 1952 and was commissioned as a Lieutenant, in the Lord Strathcona's Horse (Royal Canadians). He was immediately sent to serve in the Korean War and served for a year as an Infantry Platoon Commander with 1st and 3rd Battalions of Princess Patricia's Canadian Light Infantry. He was awarded the Military Cross (MC) for gallantry and leadership in action. During his 30 years of service he Commanded the 1st Battalion, The Queen's Own Rifles of Canada in Victoria from 1967-69 and the Canadian Airborne Regiment from 1971-73. He later served as Brigadier and Major General in various positions at NDHQ retiring in 1978.
Following retirement, he served in various capacities including Colonel of the Regiment for the Canadian Airborne Regiment and the Princess Patricia's Canadian Light Infantry, Colonel Commandant of the Canadian Infantry Corps and Honorary-Lieutenant Colonel of The Queen's Own Rifles of Canada. He also served as National Commissioner of Scouts Canada. His accumulated uniformed service being 44 ½ years.
He is survived by his wife Marianne and three children.