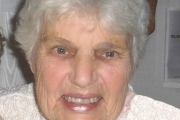 OLIVE CAMPBELL
1925-2013
Olive Campbell was born on November 24, 1925 and died peacefully July
28, 2013.  In the last years of her life, she was lovingly cared for
at home by her husband of 64 years, Harold Campbell and by her son,
John Campbell.
Olive was the mother of two other sons, Stephen and Richard, for whom
she was a source of inspiration and enduring love.   She had two
grandchildren, Olivia and Brendan who were her delight.
Olive met her husband in Jamaica where she worked as a gun- toting
Royal Bank employee.  After marrying, they lived in Ontario and then
moved to British Columbia with three young sons in the mid- 1950's.
 Although she was reluctant initially to leave flat land and the
civilization of Ontario, she soon became a mountain lover and spent
many happy days in the outdoors, camping with family and hiking to
Kokanee Glacier. She also loved gardening and cooking.
Olive worked for the Bank of Montreal and then for the Nelson
Medical Clinic before retiring.   In her retirement, she did
community work to promote support for the mentally ill.
Olive was raised in the Salvation Army.  She lived her Christian
faith in word and deed.  She was true to her convictions, and was not
afraid to stand up for her beliefs and go against the grain, if
necessary.  She met adversity in life with patience, humility, and
perseverance.   She was compassionate towards others and strived to
leave the world a better place.   Her joyous smile and award winning
apple pie will always be remembered.
A memorial service will be at 10:00am on Sunday, August 4, 2013 at
First Baptist Church, Fairview.
Online condolences may be expressed at www.thompsonfs.ca
Funeral arrangements are under the direction of Thompson Funeral Service Ltd.