Nicholas, Lincoln Theodore Samuel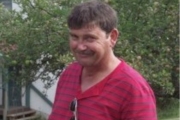 Lincoln Theodore Samuel Nicholas passed away peacefully on September 20, 2015 at the age of 58.
Lincoln was born and raised in Nelson and remained here his entire live. It was love at first sight when he met his wife Maureen (McCrae/Thomson) in1986 and they shared a beautiful amazing journey together.
Lincoln worked in the forest industry from a young age logging, planting over a million trees throughout BC. In the more recent years of his life he found his niche at the Balfour Golf Course, which he loved, working with an incredible team. 
He is survived by his wife Maureen Nicholas, his step-son and granddaughter Gerald McCrae and Brandi Gail Draycott, brother Tony Nicholas(Debra), sisters Shirley Houle(Ted), Georgia Santucci(Bruno), Margi Nicholas(Andy) Mary Nicholas, Michelle Fenn(Frank), Danielle Nicholas (Jason), Nanci Springetti(Daren), brother Adam Nicholas(Tiffany) and many nieces and nephews. He is pre-deceased by his father Chuck Nicholas(Kerry), mother Zora Anderson brother Joe Nicholas and sister Sharron Nicholas.
A Celebration of Life will be held on Saturday, September 26, 2015, 2:00-8:00 p.m. at the Balfour Senior Hall, Busk Road, Balfour BC.
Sharing of words and memories will be from 3:30-5 pm. Kindly asking anyone to bring a potluck dish to share in our celebration. Everyone welcome and we look forward to seeing you. 
Arrangements are under the direction of Thompson Funeral Service.  Online condolences may be expressed at www.thompsonfs.ca