Naydiuk, Stephan (Steve)
(July 31st, 2023)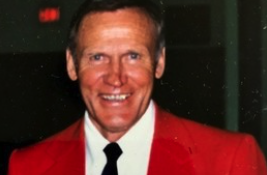 Stephan (Steve) Naydiuk passed away peacefully, surrounded by his three daughters and so much love, on Monday, July 31st, at the age of 93. 
Dad joined the RCMP as a young man and was stationed in Yorkton, Nelson, Chilliwack, Victoria, and Nelson again, where he retired. Never one to stay still for long, he took on the role of head of security at Cominco in Kimberley and Trail before truly retiring to build his and Mom's dream home at Crescent Beach.
The son of hard-working immigrants, Dad could build or fix anything, and was always ready to help any of his girls with projects in their homes. He loved being out at the lake and helped create many wonderful memories for friends and family by sharing that beautiful home and property. He was a man of quiet but rock-solid faith and was a longtime and faithful member of First Baptist Church.  
Our Dad showed a dignity and courage we could not have imagined as he adapted to life at Nelson Jubilee Manor right at the beginning of Covid. To the staff at NJM, no words are adequate to express our gratitude and appreciation for your love, patience, and compassion as you cared for our father — you truly were his family. Thank you for your thoughtfulness and kindness to us as we kept vigil with our Dad — you shared the laughter and the tears and many, many hugs, for which we will be eternally grateful. 
Steve was predeceased by his wife, Marilyn, and is survived by his daughters Mary Lee (John), Jane (Terry), and Jill, his grandson, Steven, and many beloved nieces and nephews. At Dad's request, no formal service will take place.