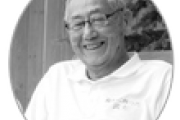 On Monday February 8 2016, Tomozo Naka died peacefully at the age of 86 surrounded by his loving family.  
 Tomo was born, the youngest of 8 children, in Gobo Wakayama Ken, Japan and returned to Canada with his mother at the age of 4 months.  He grew up in Peachland, went on to attend the University of Saskatchewan and then the University of British Columbia.
 Tomo attended Officer's Training at Royal Roads Military College and served in the Royal Canadian Navy.  
 He started his teaching career in Prince Rupert in 1952.  Following his first year he married Grace, the love of his life, and after a second year in Rupert they moved to Nelson where Tomo would begin a 30 year education career and where he and Grace would raise their family.
 He taught Math and Physics at the Nelson High School (now L.V. Rogers) and also coached and refereed basketball.  He accepted principal postings at WE Graham and then Mount Sentinel.
 Tomo was an active and long standing member of both the Gyro Club and the Nelson Golf and Country Club (Granite Pointe).
 His Naka family farming background lead to a love for gardening. He spent many hours tending to his trees, plants, tomatoes and raspberries.
 A genuine gentleman, a beautiful husband, an awesome dad, an athlete, mentor and friend to all. Tomo will always remain in our hearts.
 He will be forever remembered by his wife and best friend of 62 years, Grace, their 5 children: Deborah (Allan), Wayne (Rae), Loree (Cal), Heather (Michael) and Brian (Michelle).
 Papa Tomo was also blessed with 14 grandchildren: Ross, Brian (Heather), Paul, Kiomi (Mike), Alexander, Rebecca, Daniel, Isaac, Jessica, Augustino, Ghezlane, Matthew, Meghan, Nicolas and great grandchild Owen.
 Tomo will also be dearly missed by his numerous nieces, nephews, extended family and dear friends.
 A mass of Christian burial will be held on Saturday, February 13th, at 11:00 a.m., at the Cathedral of Mary Immaculate, 813 Ward Street, Nelson, BC.
Memorial donations in memory of Tomo may be made to Saint Joseph School, 523 Mill St., Nelson, BC V1L 4S2 or Kootenay Lake Hospital, 3 View St, Nelson, BC V1L 2V1.